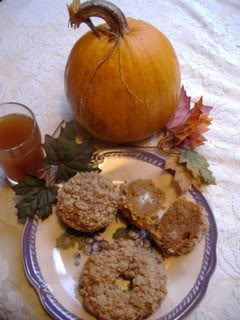 Avg. rating 5 from
13 votes.
Recipe Information
# of Servings: 15
Recipe Created By: Karen Farr
Ingredients
1/2 cup melted margarine
2 Tbsp water
1 16 oz can pumpkin
1 tsp vanilla (optional)
2 cups flour
1 cup granulated sugar
1/2 tsp salt
1 tsp baking soda
2 tsp cinnamon
1/2 tsp nutmeg
1/2 tsp ginger
Topping:
1/4 cup flour
1/4 cup granulated sugar
1/4 cup packed brown sugar
1/2 tsp cinnamon
2 Tbsp softened margarine
Directions
Melt the margarine. Mix in pumpkin, water and vanilla. Set aside. In a separate bowl, sift or whisk together flour, sugar, salt, baking soda and spices. Add the pumpkin mixture to the dry ingredients and stir until just blended. Mixture will be thick.
In a small bowl, with your fingers or a pastry blender, mix together the topping ingredients. Mix until it forms coarse crumbs.
Grease paper lined muffin cups or a donut pan with non-stick spray and fill 3/4 full. Sprinkle the streusel topping over the entire top surface of the muffin/donut.
Bake at 350 °F for 25-30 minutes or until firm. Cool in the pan for just a minute, then place a wire rack over a cookie sheet and turn out the muffins/donuts. Flip them over so that streusel is on top and allow to cool. (The cookie sheet will catch all the loose streusel.)
Makes about 10 donuts, or 15 muffins.
Notes
Iron Chef KFA Battle Pumpkin October 2006 – Dairy and egg free.
Winner – Third Place!
Challenger's statement:
If you love pumpkin, and you love streusel, then this will soon become one of your favorites! This is a versatile recipe that can be made into either muffins or donuts. Because they are so moist when fresh out of the oven, they are best made the night before to allow the flavors to meld and the crumb to set. But, if you're too impatient to wait until morning, just pour yourself a cold glass of apple cider and indulge!
Substitutions
Use dairy, soy, egg, corn, peanut and tree nut free ingredients as needed.
Butter and Margarine: Butter is a dairy product made from cow's milk. Margarine typically contains milk or soy, but there are milk-free and soy-free versions available.
Gluten:
Gluten is a protein found in specific grains (wheat, spelt, kamut, barley, rye). Other grains are naturally gluten-free but may have cross-contact with gluten-containing grains. Look for certified gluten-free products if you need to avoid gluten. Find out more about
wheat and gluten substitutions
.

Print this recipe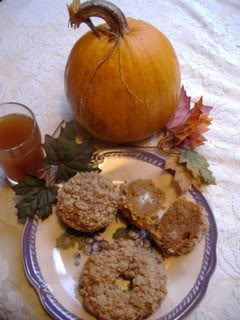 Pumpkin Streusel Muffins