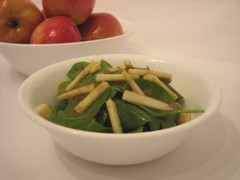 Avg. rating 4 from
6 votes.
Recipe Information
Recipe Created By: Maren Chiu
Ingredients
1 medium onion
2 Tbsp canola oil
1/2 cup apple cider
1 Tbsp apple cider vinegar
2 Tbsp olive oil
1/2 tsp cinnamon
1/8 tsp nutmeg
1 Tbsp brown sugar
1/2 tsp salt
1 medium apple
water (a few Tbsp, as needed)
1 bag fresh baby spinach
Directions
To make salad dressing, peel and halve onion. Cut into thin strips. Heat canola oil in small saucepan over low heat. Add onions. Cook over low heat, 10-15 minutes, stirring frequently, until onions are brown and very soft. When onions begin to stick, add water, a tablespoon at a time, as needed to keep from sticking.
Add cooked onions, olive oil, brown sugar, vinegar, apple cider, cinnamon, salt and nutmeg to food processor or blender. Puree until smooth.
Cut apple into large matchstick slices. Toss dressing and apple slices with spinach. Enjoy!
Notes
Iron Chef KFA Battle Apple November 2006 – Gluten and soy free.
Challenger's Statement:
Pre-FA days, I liked putting candied pecans on my spinach salad. I came up with this recipe to recreate the sweetness and crunchiness of the nuts in an FA friendly way.
Substitutions

Print this recipe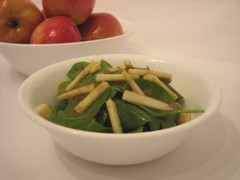 Spinach Apple Salad