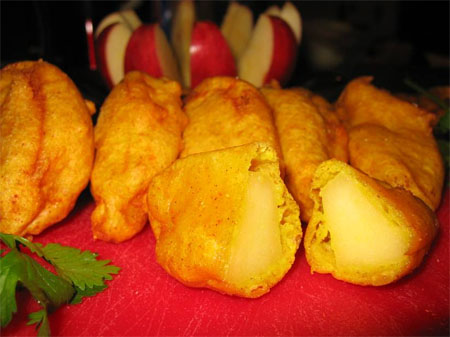 Avg. rating 4 from
10 votes.
Recipe Information
# of Servings: 4
Recipe Created By: Oliviasmommy
Ingredients
2 medium apples
1 medium onion (optional)
3 cups any safe frying oil
1 cup chickpea flour/gram flour
3 1/2 tsp Indian spices of your choice (see instructions for one homemade option) (optional)
3/4 cup club soda, sparkling water or tap water
2 Tbsp lemon juice or any anti-browning agent for the apples (optional)
Directions
Peel and slice the apples into about 10 slices each. Slice the onion into rings, about 1/3 inch thick. If you are not using onion, you will have enough frying batter for a third apple, if you wish. Put apples in a bowl with water and the anti-browning agent of your choice (optional).
In a medium bowl, mix the chickpea flour with the Indian spices. I use 1 teaspoon ground ginger plus 1/2 teaspoon each of ground cumin, ground coriander, turmeric, garlic powder and cinnamon. Mix well. Add the club soda or sparkling water if you have it. If not tap water will do, but the club soda gives the batter a nice, light texture. Mix the batter well. It will be slightly lumpy and have the texture of pancake mix.
If you have a deep fryer, follow the directions for your fryer to fry the pakoras. If not, I give directions for using a pan on the stovetop.
In a wok or medium saucepan, add frying oil. Any oil will work except extra virgin olive oil. Add enough so that the pakoras will have enough room to float. In my wok, this takes about 3 cups. Heat on medium high until a piece of onion or apple sizzles when it touches the surface of the oil.
Working in small batches, take the apple slices and onion rings and coat in the chickpea batter. The food should be coated with a medium to light coat of batter. Slide the battered fruit or veggies into the oil. Don't drop it in! Fry until golden brown, turning halfway through the cooking process so both sides brown nicely. The size of each batch will depend on the size of your pan. If the food is crowded, it will stick together.
Use a metal utensil to remove the food from the oil. Salt the onion rings immediately.
You can keep the pakoras warm in a 250 degree F oven while frying the remaining apples and onions.
Serve with your favorite dipping sauce: safe ketchup, safe soy sauce, or any safe chutney are great.
Enjoy!
Notes
Iron Chef KFA Battle Apple November 2006 – Gluten and soy free.
Challenger's Statement:
I wanted to make a savory dish using apple. My goal was to exploit the similarities between apple and potatoes as well as the delicious pairing of apples with onions. Potatoes are not on our "safe foods list" so I'm always on the lookout for dishes that will satisfy my potato loving spouse. This dish fit the bill and was created originally for this battle!
Substitutions
I am told that this recipe is also good with rice flour substituted for part or all of the gram flour.
Chickpea (and gram) is also known as garbanzo bean.
Gluten:
Gluten is a protein found in specific grains (wheat, spelt, kamut, barley, rye). Other grains are naturally gluten-free but may have cross-contact with gluten-containing grains. Look for certified gluten-free products if you need to avoid gluten. Find out more about
wheat and gluten substitutions
.

Print this recipe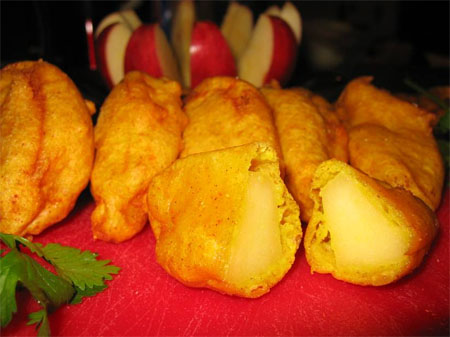 Apple Pakoras