No-Bake Pumpkin Spiced Caramel Tart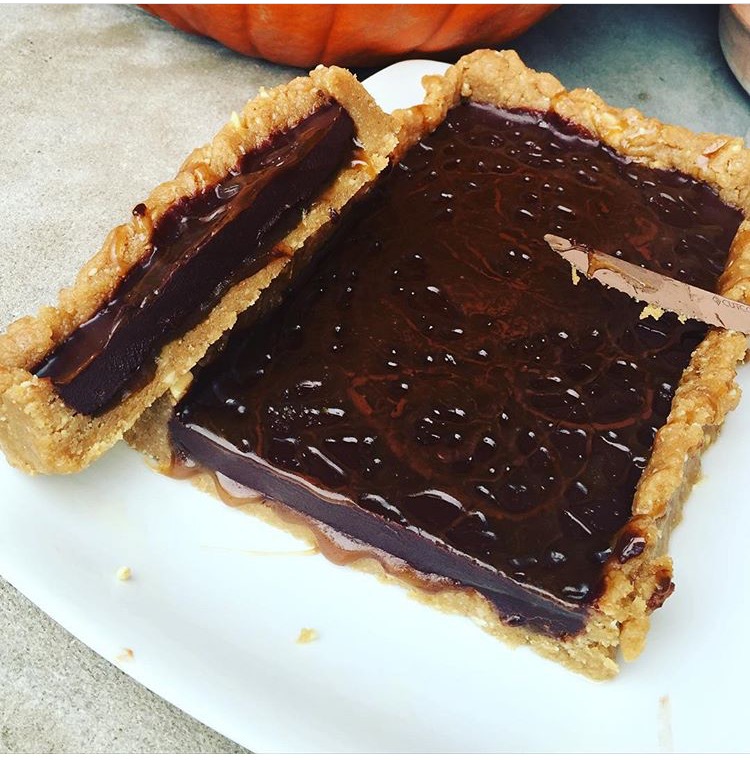 Avg. rating 5 from
2 votes.
Recipe Information
# of Servings: 1 tart
Recipe Created By: Molly Winsten
Ingredients
1 1/2 cups pitted medjool dates
1 cup roasted sunflower seeds
1 tsp sea salt
1/2 cup pure cane sugar
2 Tbsp dairy-free margarine
1/3 cup So Delicious® Dairy Free Original Culinary Coconutmilk
1 tsp sea salt
2 tsp pumpkin spice
2 tsp pure vanilla extract
1 cup dairy-free chocolate chips
1/4 cup dairy-free margarine, melted
Directions
First, make the crust. In a food processor, pulse dates, sunflower seeds, and sea salt until smooth. Press into a tart pan (I used a 13×4 rectangular tart pan, but a round one could also be used!). Place into fridge to set up while you make the other layers.
In a heavy bottomed sauce pan over medium-high heat, cook sugar and 2 Tbsp margarine until sugar is dissolved. Continue to cook, stirring often, until the mixture starts to turn light brown. Add in the culinary coconutmilk and cook for 1-2 more minutes until caramel is golden brown and thick, but not dark.
Remove from heat. Add in the salt, pumpkin spice, and vanilla. Stir to combine. Allow caramel to cool to room temperature – about 45 minutes on the counter or 30 minutes in the fridge.
After it has set up, pour caramel into crust, and put right into the fridge to help it firm.
While the tart is in the fridge, make the ganache. Melt chocolate chips and 1/4 cup margarine in the microwave for 1 minute, take it out and stir until smooth and shiny (if its not melted, return to microwave for 20 second intervals). Pour on top of caramel in the tart, and place back in the fridge for at least 1 hour before serving! Enjoy!
Notes
This is something I've been working on for a while! It was very difficult to create a good vegan caramel, but I have finally succeeded! This tart has a date and sunflower seed crust and is filled with a layer of pumpkin spiced caramel and velvety chocolate ganache. It's easy to make, and oh so good! Enjoy!
Substitutions
Caramel can be touchy, so don't leave the stove while you're making it! Just watch it carefully and you'll be fine 🙂
Butter and Margarine: Butter is a dairy product made from cow's milk. Margarine typically contains milk or soy, but there are milk-free and soy-free versions available.
Coconut:
Although classified by the FDA as a tree nut, coconut is not a common allergen and is not related to tree nuts. If you have a
tree nut allergy
, consult your physician to find out if you need to avoid coconut.
Peanut Substitutions:
There are many peanut-free products available in the US. Find out more about
peanut substitutions
.

Print this recipe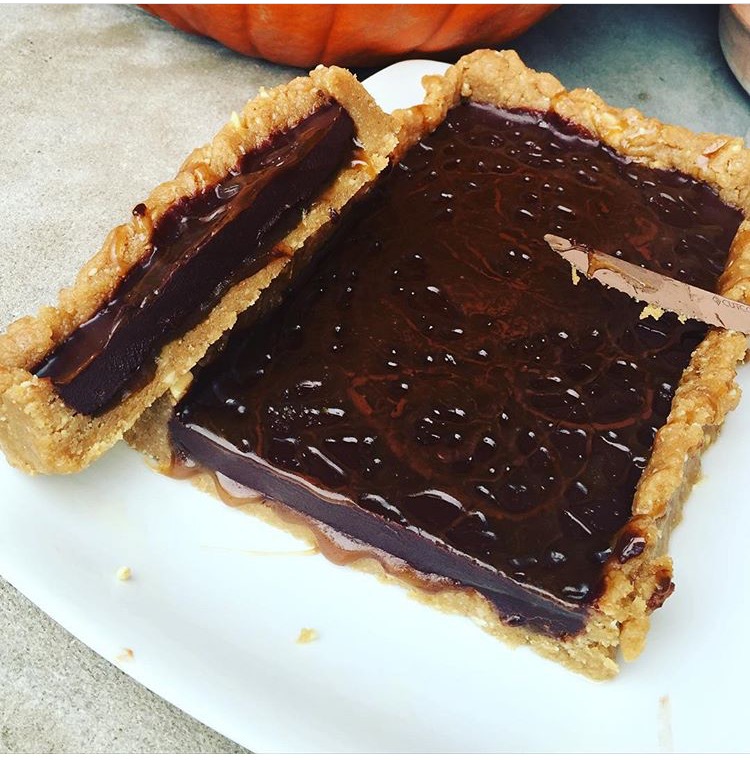 No-Bake Pumpkin Spiced Caramel Tart