Baked Chicken with Homemade Applesauce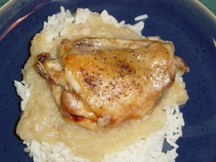 Avg. rating 4 from
12 votes.
Recipe Information
Recipe Created By: Sara Atkins
Ingredients
1 pack leg/ thighs or other chicken cuts
10 apples (mixed variety)
garlic powder (optional)
Italian Spices (optional)
pepper (optional)
salt (optional)
cinnamon (optional)
rosemary (optional)
rice noodles (optional)
Directions
Peel and cut in wedges the apples. We found using a mix of apples gives it good flavor but the best were Golden Delicious apples with 1-2 Granny Smith. Lay out in baking dish.
Lay chicken out with skin on (do not remove the fat!) over the apples. Sprinkle garlic powder, pepper, salt, and Italian spice over chicken.
Cover dish with foil, and bake covered at 425 °F for about an hour and 20 minutes, until chicken is cooked through and the apples are soft and mushy. Take foil off and bake another 10 minutes to get the skin nice and crisp (you can skip this if you don't care for crispy skin). Get rice noodles ready if serving those with.
Take chicken out of pan and put on serving dish. Mash the apples with a fork or potato masher if needed. Take cinnamon and mix a bit to taste with the apple sauce.
If using rice noodles, make a bed of rice noodles, put the chicken over, and top with the apple sauce.
Or as my kids prefer serve chicken separate, apple sauce on the side for dipping, and more on top of the rice noodles mixed in.
Notes
Iron Chef KFA Battle Apple: Gluten and soy free.
Challenger's Statement:
This dish is a hearty chicken apple dinner for a fall day. Who doesn't like a good apple sauce?! Mixed with the chicken juices it becomes a rich dipping sauce for the chicken and a great sauce to put on top of noodles or rice. There are SO many different ways to serve this dish, hopefully it will provide something for all.
Substitutions
You can leave off the spices and just bake the chicken. Still comes out yummy. You can use rosemary and leave off the Italian spices. Also you can skip the cinnamon if you can't use or don't like.
IF you are a vegetarian, you can still make the apple sauce (it's still yummy as I have been playing around with it). Cut the apples the same. Grab some margarine (or I guess butter if you use that) that's safe for you (have used most brands and it all comes out good) and cut up about half a cup (1 stick) and dot the top. Sprinkle with rosemary. Bake for the same amount of time and mash. Add in cinnamon. if desired. Mix with rice noodles if you want or eat it plain warm.
Gluten:
Gluten is a protein found in specific grains (wheat, spelt, kamut, barley, rye). Other grains are naturally gluten-free but may have cross-contact with gluten-containing grains. Look for certified gluten-free products if you need to avoid gluten. Find out more about
wheat and gluten substitutions
.

Print this recipe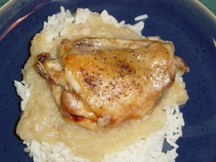 Baked Chicken with Homemade Applesauce