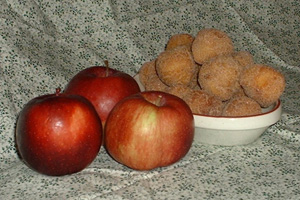 Avg. rating 4 from
6 votes.
Recipe Information
# of Servings: 12
Recipe Created By: Erica Beyea
Ingredients
2 cups rice flour
1/3 cup finely chopped apple
1/2 cup applesauce
1/4 tsp salt
3 Tbsp sugar
1/3 cup + 1 Tbsp rice milk, apple juice or cider
1/4 cup sugar
1/2 Tbsp cinnamon (optional)
2 cups canola oil
Directions
Begin heating oil in a tall pot on a medium setting, or use a deep fryer and heat oil to 350 °F. It is important that the oil is hot before placing the dough balls in to fry.
While oil is heating, peel and finely chop one small apple. Mix together rice flour, chopped apple, applesauce, salt and 3 Tbsp. sugar. Gradually stir in the rice milk – 1/3 cup plus 1 Tbsp. Mixture will be very crumbly, but should easily form into small 1-2 inch balls. If mixture seems too dry, add additional rice milk 1 teaspoon at a time.
Gently place dough balls into your hot oil, (best to use a spoon and gently ease the dough balls into the oil, so they don't fall apart) and deep fry for approximately 3-4 minutes. Turn the dough balls so they get evenly browned on both sides. Once turned, allow to deep fry for an additional 1-3 minutes, watching closely. When finished, dough balls will look lightly browned.
Remove dough balls with a slotted spoon to a paper towel lined plate to soak off excess oil. Allow to cool slightly, while mixing together 1/4 cup sugar and 1/2 Tbsp cinnamon. Roll warm dough balls in sugar/cinnamon mixture and serve. Best tasting when still warm, soft and fresh!
Notes
Iron Chef KFA Battle Apple November 2006 – Gluten and soy free.
Challenger's Statement:
This recipe was created for the November 2006 Iron Chef KFA. It was inspired by a child with multiple food allergies who really desired a snack equivalent to donut holes. The entire family, even the NKA members, absolutely love to eat these when warm and fresh.
Substitutions
Gluten:
Gluten is a protein found in specific grains (wheat, spelt, kamut, barley, rye). Other grains are naturally gluten-free but may have cross-contact with gluten-containing grains. Look for certified gluten-free products if you need to avoid gluten. Find out more about
wheat and gluten substitutions
.

Print this recipe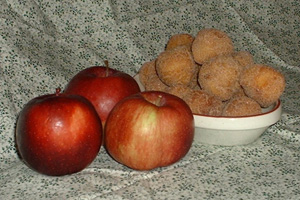 Apple Fried Dough