Gluten-Free Flatbread or Pizza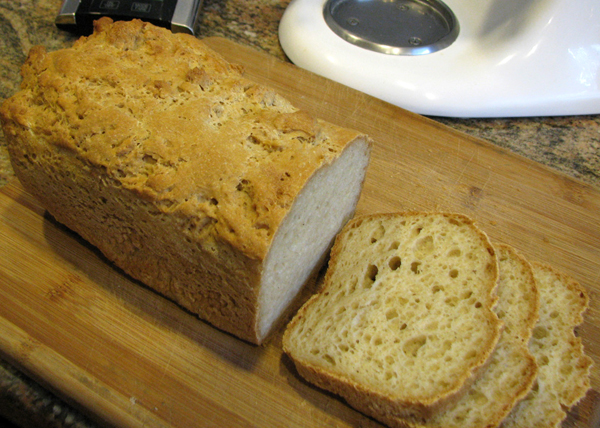 Avg. rating 3 from
5 votes.
Recipe Information
# of Servings: 3 – 12″ pizzas or 2 – 9×13 flatbreads
Recipe Created By: Kathy Przywara
Ingredients
1 cup sorghum flour (127 g)
1/2 cup millet flour (60 g)
1/2 cup white or brown rice flour (79 g)
1 cup tapioca starch (120g)
1 1/2 tsp salt
2 Tbsp ground flax meal mixed with 6 Tbsp boiling water
1 Tbsp sugar or brown rice syrup
1 1/2 cups warm water
2 Tbsp instant yeast
2 Tbsp olive oil
1/2 tsp vinegar
1/2 tsp Italian herb seasoning (optional)
Directions
Measure out and mix together the flours, starch, and salt into the bowl of a stand mixer. Add in the yeast. If you are not using instant yeast, you will need to proof it with the warm water and sugar instead of adding to dry ingredients.
Mix flax meal with boiling water and allow to stand to gel.
Combine olive oil, water, vinegar, and sweetener.
Fit the stand mixer with the paddle attachment (not the dough hook). Turn it on to stir and add the liquid slowly. Add the flax goo egg replacement. It will take a couple minutes to become "gooey". Once it does, turn the mixer up to med-high and beat for 3 min. I usually scrape the bowl down once during this time.
The dough will be soft and very sticky. Allow to rest for 20 minutes or so.
Start preheating oven to 450 °F. Add pizza stone if you have one.
Prepare your pans – fit your baking sheet with parchment paper. I have 12″ round pizza pans and I fit a square of parchment on each. Sprinkle with gluten free flour mix or just rice flour. Be generous. If you are using a baking stone, you can skip the pan since you can slip the parchment directly onto the stone in the oven. I use my pizza pans to transfer the parchment to/from the oven.
Using a scoop or spoon, divide the dough onto your baking sheets. The best way to spread this out is with the "wet spatula" method. Using a long, offset spatula, wet the length and start spreading the dough out. Keep re-wetting the spatula as needed. When I'm making round pizzas, I keep slowly spinning the tray as I work the dough out from the center. I make sure to leave a "lip" around the outside for my crust. For pizza, you want this fairly thin, but it's up to you. If you get a spot too thin or get a hole, just squish it back together and re-smooth it. For flatbread, I leave it more even and a bit thicker.
If you don't have an offset spatula, you can sprinkle the top w/ a generous amount of flour mix or rice flour and gently pat the dough out with your hands. Use lots of flour! This stuff is sticky!
For pizza – bake immediately for 12-15 min to set the crust. Remove from oven, top as desired, then return to oven to bake until toppings are bubbly and heated through. I generally slide the pizza off of the parchment and put it directly onto the stone when I return it to the oven.
For flatbread – allow dough to rest for 20-30 min. I usually dimple the dough with my fingertips and dress with olive oil and herbed salt before baking. Bake for 20 min. For a crisper bottom, you can slide the bread off the parchment directly onto your pizza stone after about 12-15 min.
Notes
Substitutions
If you cannot use flax and want a different egg replacement, omit flax meal and water and replace with:
2 Tbsp EnerG Egg Replacer mixed with 6 Tbsp water
3 tsp xanthan gum (added to dry ingredients)
If you can use eggs, replace with 2 whole eggs at room temperature.
Corn Substitutions:
Corn is a common ingredient in products. Starch, modified food starch, dextrin and maltodextrin can be from corn. Consult with your physician to find out which corn derivatives you need to avoid. Many corn-free options are available in the US. Find out more about
corn substitutions
.
Gluten:
Gluten is a protein found in specific grains (wheat, spelt, kamut, barley, rye). Other grains are naturally gluten-free but may have cross-contact with gluten-containing grains. Look for certified gluten-free products if you need to avoid gluten. Find out more about
wheat and gluten substitutions
.

Print this recipe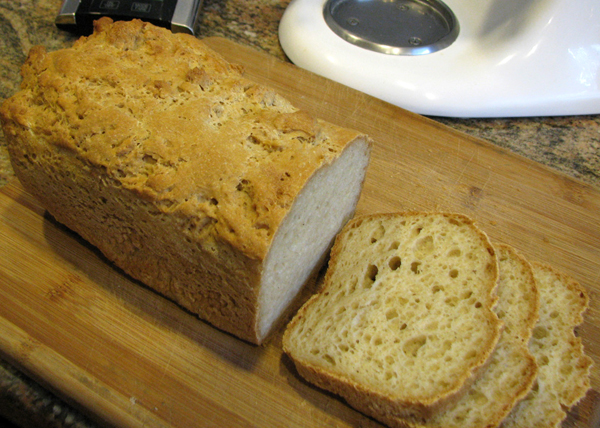 Gluten-Free Flatbread or Pizza