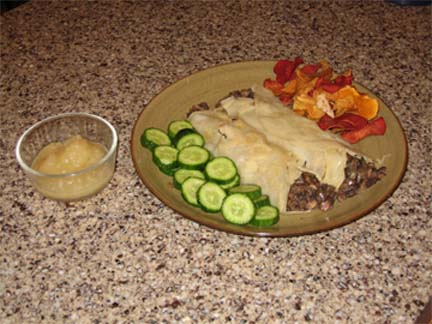 Avg. rating 5 from
2 votes.
Recipe Information
Recipe Created By: Yael Weinstein
Ingredients
2/3 cup rice milk
2/3 cup flour
2 1/3 Tbsp margarine
1 egg equivalent Ener-G Egg Replacer, prepared
1/4 tsp salt
3 cups mushrooms
1 med onion
1 Tbsp Marsala wine
1/2 tsp Tofutti® Better Than Sour Cream
Directions
Mix in a medium bowl rice milk, flour, 1 1/3 tablespoon melted margarine, Ener-g Egg Replacer mixture and 1/8 teaspoon salt together until smooth. Cover with clear wrap and place in refrigerator for at least one hour.
Chop up mushrooms of your choosing (I used Baby Portabella).
Dice up onion.
In a small to medium frying pan melt 1 tablespoon margarine then add onion to brown. Once they are golden, add mushrooms. Cook mushrooms until they are juicy. Add Marsala wine, Tofutti sour cream and 1/8 teaspoon salt. Cook for one minute.
Remove from heat and put contents into a plastic container that your child or you can take to school or work.
When crepes are ready remove from fridge. If the batter is too thick add a little water.
Using a small skillet on medium heat melt a little margarine to coat or pan spray (I've used both and they work well).
Pour half a ladle full of batter into skillet moving the skillet in your hand to coat the bottom with the batter.
When the crepe is cooked through and does not stick to a the bottom of the dish flip on to a plate.
My first crepe I usually dump out. Make about 6.
Put crepes (about 3 for one serving) into aluminum foil and then into the fridge for the morning.
You can prepare all of the meal the night before. In total between prep, cooking the mushrooms and then the crepes it will take about 30 minutes to 45 minutes.
In the morning place the plastic container of mushroom mixture and aluminum foil with crepes in lunch box with sides of your choosing. Include a plastic spoon for your child or yourself. At lunch time remove all crepes from aluminum and spoon desired amount of mushroom dish into the center of the crepe and roll. Repeat for each crepe. Enjoy!
Notes
Iron Chef KFA Battle Lunchbox Entrees September 2007 Bread and Deli Meat free.
Challenger's statement:
I created this recipe because I love crepes and I love mushrooms. It is also a great dish that does not need to be heated nor refrigerated all day, in addition you can make it the night before and have it completely packed for the morning. The great thing is that you can use the left over crepes for breakfast as well. Just add a nice fruit or jelly for your kids.
Substitutions
If you are not milk and or egg allergic you can always buy pre-made crepes at the store and just make the mushroom portion of the recipe.
If you are not allergic to milk, you can use normal milk and sour cream.
I use Fleichmann's margarine.
If using dairy sour cream, this recipe could be soy-free.
Butter and Margarine: Butter is a dairy product made from cow's milk. Margarine typically contains milk or soy, but there are milk-free and soy-free versions available.
Egg Substitutions:
There are many egg-free products and foods available to make your recipes free of eggs. Find out more about
egg substitutions
.
Gluten:
Gluten is a protein found in specific grains (wheat, spelt, kamut, barley, rye). Other grains are naturally gluten-free but may have cross-contact with gluten-containing grains. Look for certified gluten-free products if you need to avoid gluten. Find out more about
wheat and gluten substitutions
.

Print this recipe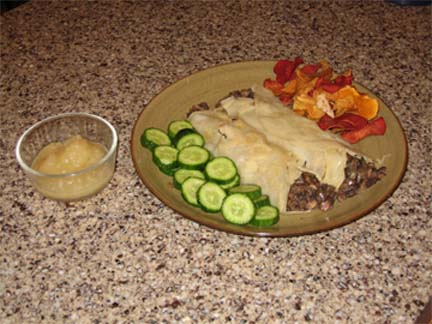 Crepes with Mushrooms