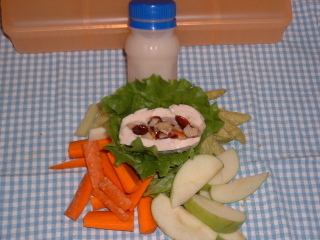 Avg. rating 4 from
7 votes.
Recipe Information
Recipe Created By: rachelandtyke
Ingredients
1 boneless, skinless chicken breast
1 Tbsp carrot, chopped/diced
1 Tbsp celery, chopped/diced
1 Tbsp apple, chopped/diced
1 Tbsp dried cranberries
1 tsp oil
1/2 tsp apple cider vinegar
1 lettuce leaf
Directions
Night before:
Cook chicken breast – boiling for 20-25 minutes will give a moister piece than baking.
Morning prep:
Chop or dice the carrot (about 1/4 of a medium carrot).
Chop or dice the celery (about 1/4 – 1/3 of a medium stalk).
Chop or dice the apple (about 1/8 of a medium apple).
Note: Don't chop the items so fine that you lose the crunch when you bite into the unsandwich. About the same size as you would for tuna or chicken salad is sufficient.
Combine 1 Tbsp carrot, 1 Tbsp celery, 1 Tbsp apple, and 1 Tbsp dried cranberries in a small bowl. Add 1 tsp oil and 1/2 tsp apple cider vinegar. Stir to coat.
Cut the chicken breast in half cross-wise (short side). Using a sharp knife, cut a pocket in the inside edge as deep and as far to the sides as you can without breaking the piece. Gently squeeze the outside edges to open the pocket and stuff with the filling. The above filling makes enough to fill one medium chicken breast.
Wrap each half of the stuffed chicken breast in a piece of lettuce – adds a little flavor and then your little one can hold the lettuce instead of the chicken itself to eat it.
Send in a lunch with a frozen drink or ice pack to keep it cool. To complete the lunch, it's convenient to cut up the rest of the carrot, celery, and apple!
Notes
Iron Chef KFA Battle Lunchbox Entrees September 2007 Bread and Deli Meat free: First-place winner (tie).
Challenger's statement:
I completely drew a blank when I first heard the terms for this battle. I had no plans on entering. Although we are accustomed to sandwich-free, top-8 free lunches, I was used to having a piece of safe lunch-meat that I would "stuff" with yummy extras and then roll up to eat. Then it dawned on me that I could do this with a chicken breast also. Stuffed chicken breast is not a novel concept, but it is for a boxed lunch. Carrots and celery are usually associated with a chicken salad sandwich, but I like fruit with chicken, so I added apple and dried cranberries. Since we are top-8 free, I had to choose something other than mayo. My husband balked at holding the meat, so I added a piece of lettuce around the chicken. I'm excited to have a new alternative to add to our lunches!
For a small child, a half breast would be plenty. You can save the other piece and remainder of the mixture for the next day or send with another child (or eat it yourself).
The filling can be made the night before or that morning.
Items can be chopped/diced by hand, food processor, or manual chopper. For timing prep, I did it by hand.
Substitutions
Raisins can be substituted for dried cranberries.
Use whatever vegetable-type oil is safe for you.

Print this recipe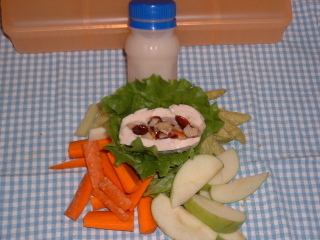 Chicken Salad Unsandwich