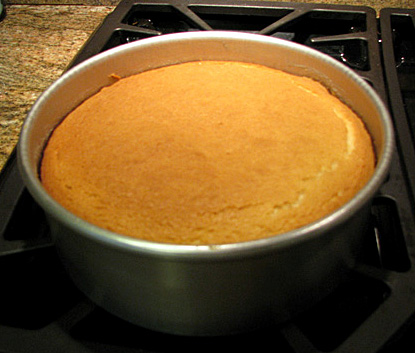 Avg. rating 5 from
13 votes.
Recipe Information
Recipe Created By: Kathy Przywara
Ingredients
2 1/3 cups cake flour *
4 tsp baking powder
1 tsp salt
1 1/2 cups sugar
1/2 cup margarine or shortening, softened
1 cup milk OR soy milk
1 tsp vanilla
1/2 cup unsweetened applesauce
Directions
Preheat oven to 350 ° (or 325 ° convection bake). Prepare pans – line cupcake pans or grease and flour layer pans. You can use 2 8×2″ pans, an 8×3″ pan which will torte into 3 layers, or an 8″ square pan. 9″ round pans work also.
Combine dry ingredients and mix well.
Add the shortening or butter/margarine and work in until it's the texture of fine crumbs. I do this in my stand mixer with the paddle attachment. I put the mixer on stir while I drop in small chunks of butter. Once it's all it, I up the speed to 4 and let it run for ab out a minute. Stop to make sure there are no chunks stuck to the paddle. You could do it by hand with a pastry blender.
Add the milk or soy milk and vanilla. Beat for 2 min stopping to scrape down the sides. My grandmother did by hand with a wooden spoon and counted 200 strokes.
Add the applesauce and beat 2 more minutes.
Pour into prepared pan(s). Bake at 350 °/325 ° convection until it tests done. The time will vary depending on your pan. For 8 or 9″ layer pans, it will be about 30-35 min. For an 8×3″ pan, this will be about 50-60 min. For cupcakes, bake them for 18-20 min.
Notes
This was my grandmother's favorite cake recipe – it was actually her mother's recipe. I really missed this cake when we had to remove dairy and eggs. It was just so hard to get the right texture in a white cake. This version has a lovely texture between a pound cake and a butter cake.
This recipe yields just over 6 cups of batter.
Substitutions
* The cake flour is important here. My grandmother's recipe called for 2 cups plus 2 Tbsp of AP flour so I think it was originally converted from cake flour. When converting to egg free using applesauce, this became very dense. Commercial egg replacer made it rubbery. Converting to cake flour was the trick!
This cake can be made with shortening, margarine or butter. If avoiding soy, use butter or a soy- free margarine or shortening. Made with shortening will be just a tad drier.
Soy or cow's milk can be used. I have found that refrigerated original Silk yields the best flavor and nice white color. Other soy milks have a stronger taste that comes through more and gives a darker color. You can use vanilla soy milk and decrease or eliminate the vanilla extract. I have not tried this with any other milk alternatives, but I don't see why it wouldn't work with rice milk or DariFree.
To convert back to eggs, decrease the baking powder to 3 tsp and replace the applesauce with 2 whole eggs.
For Eggnog Starlight Cake:
add:
1/2 tsp cinnamon
1/4 tsp ground nutmeg
replace the milk with Silk Nog
Butter and Margarine: Butter is a dairy product made from cow's milk. Margarine typically contains milk or soy, but there are milk-free and soy-free versions available.
Corn Substitutions:
Corn is a common ingredient in products. Starch, modified food starch, dextrin and maltodextrin can be from corn. Consult with your physician to find out which corn derivatives you need to avoid. Many corn-free options are available in the US. Find out more about
corn substitutions
.
Gluten:
Gluten is a protein found in specific grains (wheat, spelt, kamut, barley, rye). Other grains are naturally gluten-free but may have cross-contact with gluten-containing grains. Look for certified gluten-free products if you need to avoid gluten. Find out more about
wheat and gluten substitutions
.

Print this recipe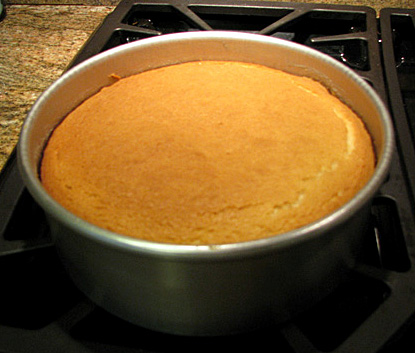 Starlight Cake