Salsa Beef or Chicken Bakes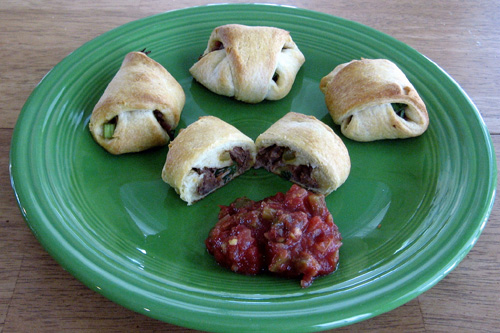 Avg. rating 5 from
2 votes.
Recipe Information
# of Servings: 8
Recipe Created By: Carolyn
Ingredients
2 pkgs crescent rolls
1 cup shredded beef or chicken
4 Tbsp chunky salsa
4 stalks green onions (diced)
Directions
Preheat the oven to 375 °F.
Remove crescent rolls from the package and separate into 16 triangles. Use your fingers to flatten them out slightly (just makes it easier to roll.)
In a bowl, combine shredded beef or chicken, salsa, and diced green onion. If the salsa is runny, drain off some of the liquid first.
Place one spoon of meat mixture at the widest end of the crescent roll, until all crescent rolls are filled. Gently fold the points of the crescent roll at the wide end over the meat mixture, then roll from the wide end toward the narrow end.
Place in the oven and bake for 11 minutes, or until the tops of the rolls are golden. Remove from oven and serve with a side of salsa for dipping.
Makes 16 salsa beef or chicken bakes, and serves 8.
Notes
Iron Chef KFA: Football Tailgating Snacks January 2007
Secret Without(s) – dairy and potato
Challenger's Statement:
I created this recipe looking for a way to use up leftover chicken or beef (I used leftover roast beef). My kids were tired of BBQ beef sandwiches and chicken and noodles!
We all love Mexican food as well, and my original goal was to make empanadas of some sort, but I didn't have the right ingredients on hand. This recipe was the result of my combining ingredients I had on hand, and the kids (and I) loved it.
Substitutions
I used Best Choice Reduced Fat crescent rolls – which are dairy and potato free – but you might have to watch the ingredients in other brands.
As a substitute, I also made these with home made pie crust dough. To do this, combine 2 cups flour, 2/3 cup shortening, 5-6 Tbsp cold water, and 1 tsp salt. Roll out to 1/8th inch thickness and cut into triangles about 5-6 inches long on two sides, and 3 inches on the other. This makes approximately 12 triangles. Increase baking time to 15-18 minutes. These may not get as golden brown on top as the crescent rolls, and may crumble easier, but taste very good in this recipe.

Print this recipe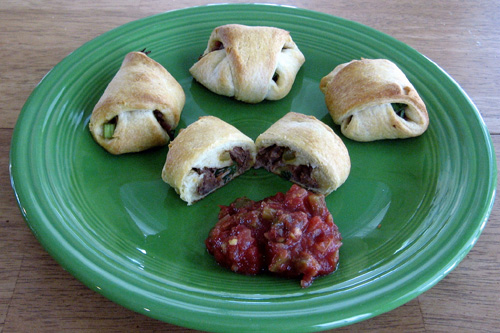 Salsa Beef or Chicken Bakes