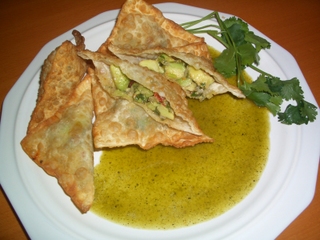 Avg. rating 5 from
8 votes.
Recipe Information
# of Servings: 12
Recipe Created By: Rhonda Thomson
Ingredients
1 scallion, minced
1 Tbsp vegetable oil
2 Tbsp fresh lime juice
1/4 cup (scant) sundried tomatoes (packed in oil), chopped
1/4 cup (loosely packed) cilantro, finely chopped
1/4 tsp salt
1/8 tsp black pepper
3 med avocados, pitted, peeled, and cut into 1/2
12 wonton wrappers
oil for deep frying
Directions
Saute scallion in 1 Tablespoon oil in a small saucepan over medium heat until soft and translucent, about 5 minutes. Add garlic and cook one minute more. Remove from heat and set aside to cool to room temperature.
In medium bowl combine avocado, sun-dried tomatoes, cilantro, lime juice, salt and pepper. Add scallions and garlic. Toss to combine.
Heat one inch vegetable oil in a heavy skillet to 375 °F.
For each wrapper, place one teaspoon of avocado mixture in center of won ton wrapper. Moisten the outside edges of the wrapper by dipping your finger in water and running it around the edge. Fold wrapper in half to form a triangle by bringing two opposite points together. Crimp edges securely by pinching firmly with fingers to seal all edges.
Deep fry, two or three at a time, until golden brown, turning once. Cook approximately one minute on each side. Drain on paper towels.
Serve immediately with Honey Lime Dipping Sauce.
Notes
Iron Chef KFA Battle Tailgate Snacks January 2007 Dairy and potato free.
Challenger's statement:
These were inspired by the Avocado Egg Rolls at The Cheesecake Factory. I don't know how close I got, but even my picky DH liked them.
Substitutions
Scallion may be substituted with 1/4 of a red or purple onion.
Won Ton wrappers may be substituted with UNCOOKED flour tortillas for an egg-free option. I made them this way successfully, by cutting the tortillas into quarters with a pizza cutter, and crimping the edges the same as the Won Ton wrappers. These are available in the refrigerator section of Costco in Southern California. I don't know about the availability in other areas.
Commercial wonton wrappers generally contain egg, soy and corn ingredients.

Print this recipe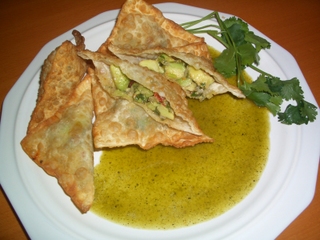 Avocado Wrappers