Mock Peanut Butter Cup Bars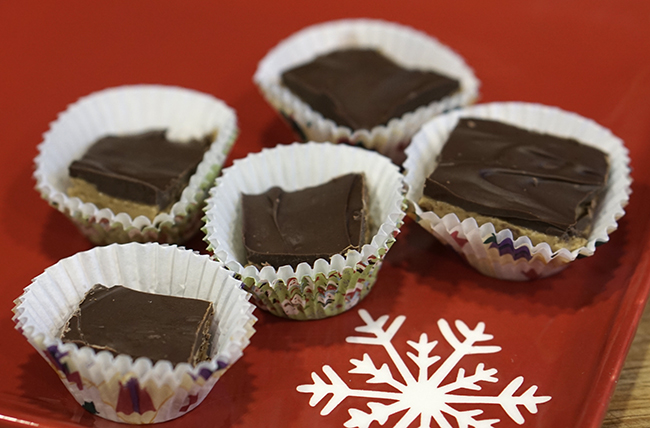 Avg. rating 5 from
8 votes.
Recipe Information
Recipe Created By: Kathy Przywara
Ingredients
1/4 cup margarine
3/4 cup peanut, soy, or sunflower nut butter
3/4 cup graham cracker crumbs
1/2 cup powdered sugar
1 1/2 cups chocolate chips
Directions
Melt together margarine and peanut butter or alternative. Mix together graham cracker crumbs and powdered sugar. Add melted butters and stir to completely blend. Spread this in the bottom of an 8×8″ pan. This will be a fairly thin layer. If you want it thicker, use a smaller pan. Melt chocolate and spread evenly on top of peanut butter mixture. Allow to cool for at least an hour in the refrigerator. Cut in squares to serve. It's easier to cut if you take it out of the fridge for 10-15 minutes before cutting.
Notes
This is a great camping recipe.
At home:
Put graham crackers and powdered sugar in a ziplock bag.
Put butter/margarine and peanut butter or alternative in another ziplock bag.
Put chocolate chips in a third ziplock.
It's best to use heavy freezer bags for this.
At Camp:
If not already done, pound crackers to make crumbs. The bottom of a saucepan works fine and great to keep the kids busy. Dip the bag with the butter/peanut butter in some hot water to melt. Add the crumb/sugar mixture to this bag and mush it around till it's a dough. Put the bag of chocolate chips in the hot water to melt. Snip off the corner of the peanut butter bag and squeeze it out into the pan. This is pretty thick, so you need a pretty big snip. This kids will all think it looks like poop coming out into the pan – just go with it! Use the back of a spoon or knife to spread it out. By now your chocolate should be melted. Snip a corner off the bag and squeeze out on top. Spread it out evenly. Cover and stick in the cooler for a bit. We make this at lunch time to have for dessert at dinner. Just use the water you are boiling to wash the lunch dishes.
Substitutions
This tastes best with milk chocolate chips, but is fine with semi-sweet too.
Use any graham crackers that are safe for your allergen set. There are several Graham Cracker and wheat/gluten-free Mock Graham Crackers recipes here if you can't find safe ones.
Butter and Margarine: Butter is a dairy product made from cow's milk. Margarine typically contains milk or soy, but there are milk-free and soy-free versions available.
Corn Substitutions:
Corn is a common ingredient in products. Starch, modified food starch, dextrin and maltodextrin can be from corn. Consult with your physician to find out which corn derivatives you need to avoid. Many corn-free options are available in the US. Find out more about
corn substitutions
.
Peanut Substitutions:
There are many peanut-free products available in the US. Find out more about
peanut substitutions
.

Print this recipe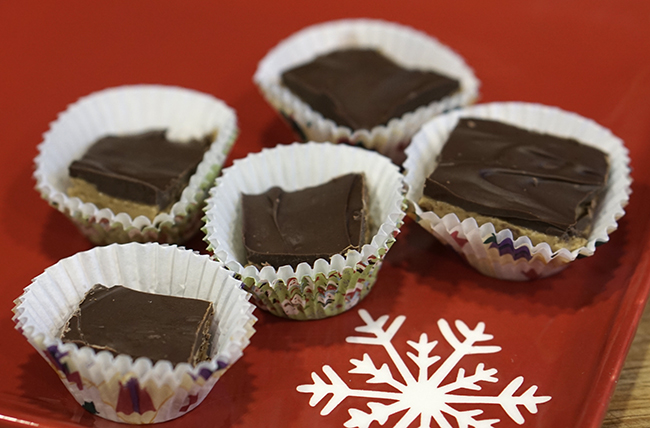 Mock Peanut Butter Cup Bars