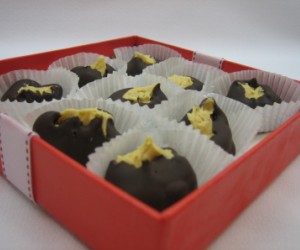 Avg. rating 5 from
23 votes.
Recipe Information
Recipe Created By: Cristi Schwamb
Ingredients
3 Tbsp softened margarine or softened (or melted) coconut oil
1/2 cup sunflower seed butter such as SunButter®
1 cup sifted powdered sugar
1 cup (approx) semi-sweet chocolate chips
Directions
Using a stand mixer or by hand, combine margarine, sunflower seed butter and powdered sugar. If the mixture is too sticky to handle, mix in one spoonful of powdered sugar at a time until the consistency is a bit firmer and doesn't make a mess all over your hands.
Divide dough into small balls. Refrigerate (or freeze) for a while so that they aren't so sticky.
Place chocolate chips in a microwave-safe cup. Microwave in 30-second intervals, stirring every 30 seconds until smooth.
Dip balls partially into melted chocolate and place on waxed paper. Chill until firm.
For an Easter version of Mock Buckeyes, divide the dough balls into small egg-shapes. After dipping each candy into the chocolate and chilling, wrap in colored foil.
Makes about 30 candies.
Notes
Buckeyes are traditionally peanut butter balls partially covered in chocolate to leave a light patch at the top to resemble the nut of the Ohio buckeye tree. This version can be made safe for peanut allergy, milk allergy and soy allergy.
Substitutions
Commercially available sunflower seed butter may contain soy. If avoiding soy, you can make your own
Sunflower Seed Butter
using safe sunflower seed kernels.
To make this dairy-free, use dairy-free margarine and chocolate chips.
To make this soy-free, use coconut oil or soy-free margarine, soy-free chocolate chips, and soy-free sunflower butter.
To make this corn-free, use corn-free margarine or coconut oil, and corn-free powdered sugar.
Butter and Margarine: Butter is a dairy product made from cow's milk. Margarine typically contains milk or soy, but there are milk-free and soy-free versions available.
Coconut:
Although classified by the FDA as a tree nut, coconut is not a common allergen and is not related to tree nuts. If you have a
tree nut allergy
, consult your physician to find out if you need to avoid coconut.
Corn Substitutions:
Corn is a common ingredient in products. Starch, modified food starch, dextrin and maltodextrin can be from corn. Consult with your physician to find out which corn derivatives you need to avoid. Many corn-free options are available in the US. Find out more about
corn substitutions
.
Peanut Substitutions:
There are many peanut-free products available in the US. Find out more about
peanut substitutions
.

Print this recipe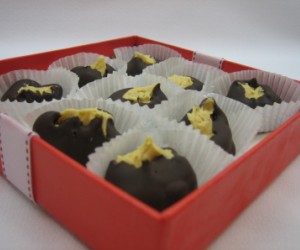 Mock Buckeyes