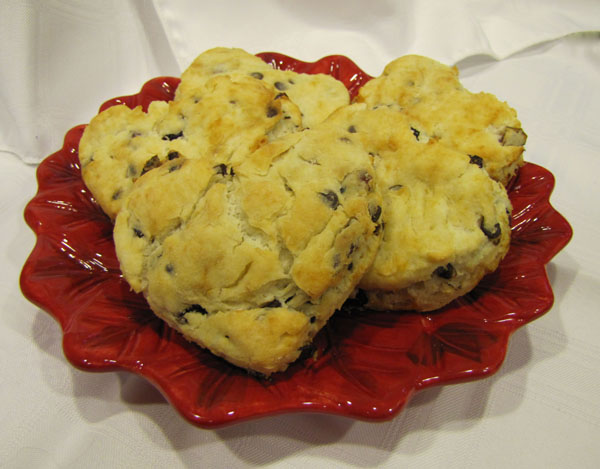 Avg. rating 4 from
4 votes.
Recipe Information
Recipe Created By: Kathy Przywara
Ingredients
1 1/2 cups all purpose flour
1/2 cup white whole wheat pastry flour
1 tsp sugar (see below for scones)
1 Tbsp baking powder
1/2 tsp salt
1/2 cup margarine, butter, shortening or combination
3/4 cup milk or unflavored milk substitute
Directions
** Flaky Biscuits Recipe: Dairy-Free, Egg-Free, Wheat/Gluten-Free has more tips for biscuit baking, especially the gluten free version.
Preheat oven to 375 °F.
Combine dry ingredients (flour, sugar, salt, baking powder). Mix well. Cut in the fat using a pastry blender, fork or 2 knives until it's the consistency of coarse meal. At this point, the "mix" can be put into an airtight container or zip top baggie for later use. Even using butter, I have held this at room temp for a day or 2 to take along camping.
Make a well in the middle of the dry ingredients and pour in the milk. Using a spatula or wooden spoon, gently mix until the whole thing comes together.
For rolled/cut biscuits:
Turn the dough out onto a lightly floured smooth surface. Gather it all together and flatten it a bit with your hands. Fold in half and turn and flatten again. Repeat this 2-3 times. this will give lovely flaky layers to your biscuits. Don't over work it though. Flatten out the dough to about 1/2″ thick. You can do this with you hand or a rolling pin, but do it gently. Using about a 2″ round or fluted cutter, cut out biscuits. Gather your scraps, roll out and cut another round. Continue until until you have everything cut out. The biscuits that have been handled more will be less flaky. Place on a parchment lined baking sheet with ample space between them. Bake 10-12 minutes or until golden. Remove from oven and allow to cool slightly before eating.
Drop style biscuits:
Using a large spoon, drop dough onto a parchment lined baking sheet. I try to get 12 equal portions. Bake for 12-15 min or until golden brown and delicious. Allow to cool slightly before eating.
Serving and storing:
I like to put these in a napkin lined basket to keep them warm at the table. The napkin will absorb any steam coming off so the biscuits don't get soggy.
To bake ahead and store, transfer biscuits from pan to a cooling rack and allow to cool completely. Store in an airtight container. They can be eaten cold or reheated in a 350 ° oven for 6-8 min or until warmed through.
Notes
These are sooooo good! My kids are hooked on them! I've used different shaped cookie cutters to cut them out which made them special for holidays. Just make sure to use cutters that are all about the same size. For spring, we did ducks, frogs, and bunnies to go with a homemade ham spread for a brunch.
This recipe works well for camping and can be cooked in a Dutch oven. Make the mix up take along in a heavy ziplock or other airtight container. Take along the milk or sub. Prepare your coals and preheat your Dutch oven then mix the dough. Drop these in the bottom of the Dutch oven or use a foil pan as a liner. I used foil pans because I only have a small Dutch oven and needed to bake in 2 batches. Turn your lid and rotate the pan every 8-10 min. They may take a little longer to cook than in an oven, so just keep an eye on them but don't open the pan too often or you lose too much heat. The leftovers (you may have to plan for leftovers!) are great heated up in a foil packet over some coals for breakfast with some Spam or other breakfast meat.
Copyright © 2009 Kathy Przywara. All rights reserved. The copyright of this recipe is retained by the original recipe creator. If you would like to publish this recipe elsewhere in print or online, please contact us to find out how to obtain permission.
Substitutions
Herbed biscuits:
– add 1 Tbsp Herbs d'Provence to the dry ingredients
Scones:
– increase sugar to 2 Tbsp
– optionally add dried fruit such as cranberries or cherries that have been soaked for 5 min in boiling water just to cover then well drained. Add this after cutting in the fat but before adding the milk.
– optionally top with some coarse sugar for extra sweetness and crunch.
The white whole wheat pastry flour adds a bit of whole grain nutrition to the biscuits without overpowering them. If you want, you can omit and use a total of 2 cups of all purpose flour.
This recipe works well with either all butter/margarine or half butter and half shortening. I have not tried it with all Spectrum shortening.
I use unflavored soy milk, but any safe milk sub should work. Vanilla flavor would be fine in scones, but stick with unflavored in biscuits.
For gluten free use:
1 1/2 cups Kathy P's Brown Rice Flour Mix
1/2 cup cornstarch or potato starch
Butter and Margarine: Butter is a dairy product made from cow's milk. Margarine typically contains milk or soy, but there are milk-free and soy-free versions available.
Corn Substitutions:
Corn is a common ingredient in products. Starch, modified food starch, dextrin and maltodextrin can be from corn. Consult with your physician to find out which corn derivatives you need to avoid. Many corn-free options are available in the US. Find out more about
corn substitutions
.
Gluten:
Gluten is a protein found in specific grains (wheat, spelt, kamut, barley, rye). Other grains are naturally gluten-free but may have cross-contact with gluten-containing grains. Look for certified gluten-free products if you need to avoid gluten. Find out more about
wheat and gluten substitutions
.

Print this recipe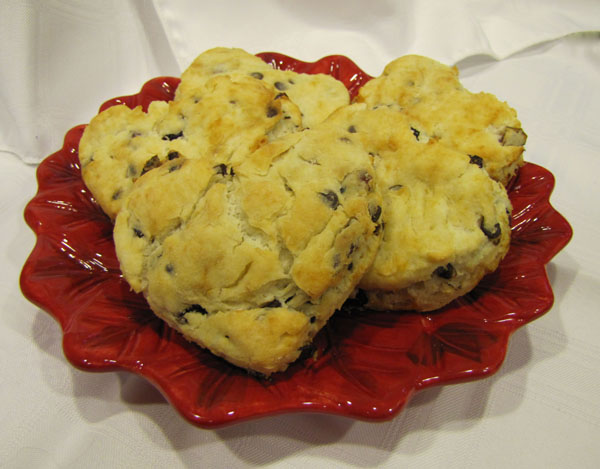 Biscuits or Scones