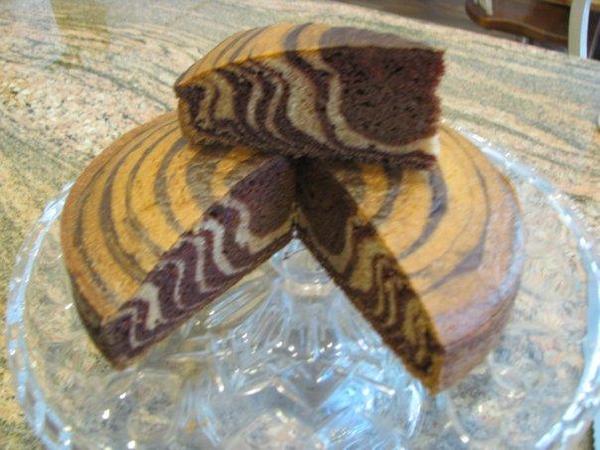 Avg. rating 4 from
76 votes.
Recipe Information
Recipe Created By: Kathy Przywara
Ingredients
1 1/2 cups flour (see below for gluten free)
1 cup sugar
1 tsp baking soda
1/2 tsp salt
1 cup milk or milk alternative
1/3 cup oil
1 Tbsp vinegar
1 tsp vanilla (optional)
1 1/2 – 2 Tbsp cocoa powder
Directions
Preheat oven to 350 °F. Prepare an 8″ or 9″ cake pan. I use Cake Release and parchment, but you can also grease well and flour your pan.
Combine flour, sugar, salt and baking soda in a large mixing bowl. Whisk to combine. In a smaller bowl, combine the milk alternative, vinegar, oil, and vanilla. Pour the wet works over the dry works. Whisk gently until you have a smooth batter. Do not beat or overmix.
Pour half of the batter into another bowl – I use the bowl I had the wet works in. Add the cocoa powder to one half of the batter and mix well.
Here is where the zebra stripes get formed and technique is important. I use a #16 disher (like an ice cream scoop with a sweeper) for this which holds 4oz. You can use a 1/4 c measure. When using a disher, I was able to use the same one for both batters, but I don't recommend that if using a measuring cup unless you scrape it each time. Otherwise it will just mix the batters by the end.
Starting with the white batter, put one disher of batter into the center of the prepared pan. Let the batter spread naturally, don't try to move the pan around to get it to flow. Put one disher of chocolate batter in the middle of the white batter. Again, just let it flow naturally. Don't wait a long time between each addition – just keep going with an even rhythm. Continue in this manner until all of the batter is used.
Bake @ 350 °F for 25-30 min or until it tests done. All ovens are a little different, so go by doneness check and not time. Remove from oven and allow to cool on a rack for 15 min. Remove from pan and allow to cool completely on a rack. Transfer to serving plate.
You can frost this if you wish, but it's pretty and delish all on it's own.
Notes
This is a moist cake that is not overly sweet. It's not super chocolately either. It's perfect with a cup of tea or coffee or a casual dessert. My kids love it as a snack cake after school – they walk into the house that smells like cake baking and just can't wait for a slice!
Copyright © 2009 Kathy Przywara. All rights reserved. The copyright of this recipe is retained by the original recipe creator. If you would like to publish this recipe elsewhere in print or online, please contact us to find out how to obtain permission.
Substitutions
I use balsamic vinegar, but any vinegar will work. The balsamic makes the vanilla a little darker than a light colored vinegar would.
If you use vanilla flavored milk alternative, you can omit the vanilla if you wish. If you don't have a safe vanilla, it can be omitted altogether.
For gluten free:
1 1/4 c (145g) Kathy P's brown rice flour mix
1/4 c (32 g) cornstarch
Gluten:
Gluten is a protein found in specific grains (wheat, spelt, kamut, barley, rye). Other grains are naturally gluten-free but may have cross-contact with gluten-containing grains. Look for certified gluten-free products if you need to avoid gluten. Find out more about
wheat and gluten substitutions
.

Print this recipe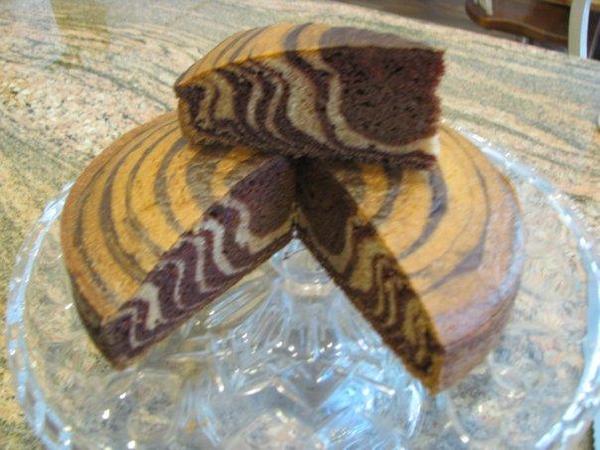 Vegan Zebra Cake