Milk-Free Frozen Berry Mousse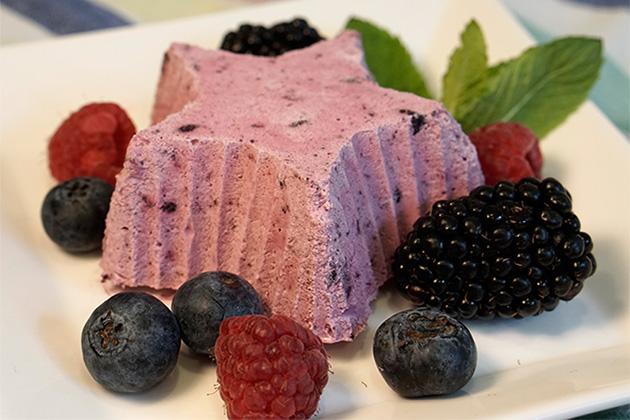 Avg. rating 5 from
5 votes.
Recipe Information
# of Servings: Makes 8 (1/2 cup) servings
Recipe Created By: KFA Food Bloggers
Ingredients
12 oz berries, fresh or frozen
1/4 cup organic cane sugar
1/2 lemon, zest and juice
1 9 oz container So Delicious® Dairy Free CocoWhip Original or Light Coconut Milk Frozen Dessert Topping
Directions
Thaw CocoWhip according to package directions.
In a small pot, combine berries, sugar and lemon juice. Stir to combine.
Place over medium-low heat and bring to a boil stirring frequently. The berries will "pop" as they are heated. Mash them with the back of a spoon as you are stirring to help break them up. Once mixture comes to a boil, continue boiling for 10 minutes. Stir occasionally and continue to mash the berries. Remove from heat.
Optional: If using blackberries or raspberries and you don't want seeds in your mousse, press the mixture through a fine sieve. This is easiest when it is still warm.
Allow berry mixture to cool completely.
Transfer berry mixture to a mixing bowl. Add about 1/2 cup of CocoWhip to the berry mixture. You don't need to measure this – just a big scoop. Mix the scoop of CocoWhip into the berry mixture to "lighten it up."
Add the remaining CocoWhip to the berry mixture. Gently fold it into the mixture until everything is combined.
Gently fill ramekins or silicone molds with the mousse mixture. Freeze at least 4 hours. If making ahead, cover with plastic wrap.
Serve with fresh berries and additional CocoWhip if desired.
Notes
Variations:
Berries – use blueberries, raspberries, blackberries or any combination.
Containers – any individual serving sized containers will work. Some options are ramekins, shaped silicone baking cups such as stars or hearts, small glasses or stem glasses. If you want to unfold the mousse, use silicone baking cups.
Frozen or not frozen – the mousse can also be served refrigerated. Use ramekins, small dishes, small glasses or stem glasses. Garnish with fresh berries or cookie crumbs.
Parfait – layer the mousse with other ingredients such as coarsely crushed cookies, pieces of cake or fresh berries.
Frozen berry mousse pie – fill a graham cracker crust with the mouse and freeze. Allow to sit at room temperature 10 – 15 minutes before cutting.
Substitutions
Coconut:
Although classified by the FDA as a tree nut, coconut is not a common allergen and is not related to tree nuts. If you have a
tree nut allergy
, consult your physician to find out if you need to avoid coconut.

Print this recipe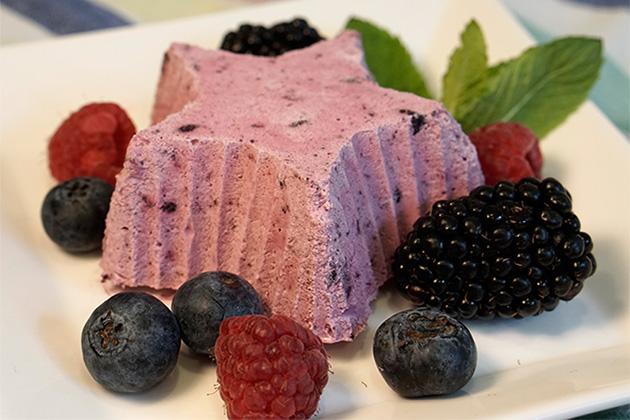 Milk-Free Frozen Berry Mousse