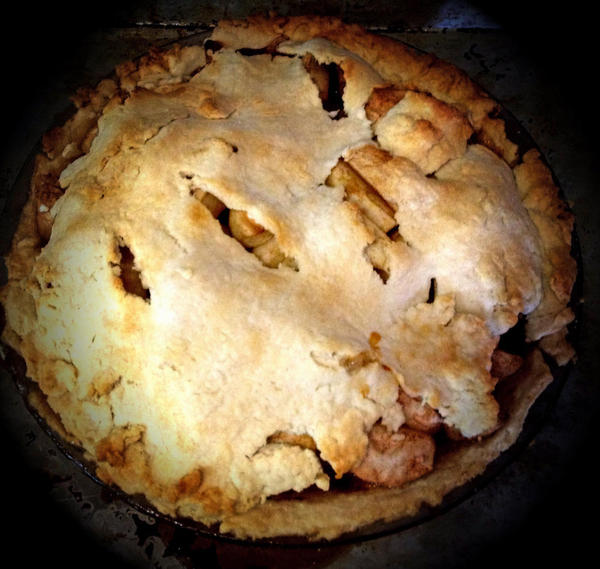 Avg. rating 5 from
2 votes.
Recipe Information
# of Servings: 1 – 9″ double crust pie
Recipe Created By: Meg Falciani
Ingredients
Crust
2 cups all-purpose flour
1 tsp salt
2/3 cup lard or other solid fat
4 Tbsp vanilla extract
2 Tbsp iced water
Filling
3/4 – 1 cup sugar
1 tsp cinnamon
6-7 cups sliced apples
1 Tbsp butter or margarine, cut into small pieces (optional)
Directions
Make the Crust:
Sift flour and salt together. Add the lard to the bowl and place in refrigerator for 20 min.
Remove from fridge. Using fingertips or a pastry cutter, gently work the lard into the flour until the bits of fat are pea sized or smaller. Sprinkle the vanilla extract into the flour/fat mixture, working it gently in until dough begins to come together. (It will still be dry with loose flour.) Add water (not the ice), about half a tablespoon at a time, until the entire mass comes together into a ball. (You may not need the entire amount.) Wrap dough in plastic and chill in refrigerator for 30-60 minutes.
Remove dough from refrigerator. Divide in half, and roll dough to fit your pie pan. Line pan with dough. Roll out other piece for top crust.
Make Filling:
Mix sugar, cinnamon and fruit together, and pour into pie pan prepared with half of the crust dough. Dot with butter, if desired.
Final Assembly:
Place top crust on pie, and create small slits for steam to escape. Crimp edges, and place on baking sheet. (The sheet will catch any overflowing juices.) Bake at 425 °F for 50-60 min.
Notes
Substitutions
Any all-purpose wheat flour will work for this crust. I used White Lily brand (often used for southern-style biscuits) because it is made with a "softer" wheat and produces a more tender crust.
You may substitute any safe solid fat (butter, margarine, shortening) for lard if desired.
Butter and Margarine: Butter is a dairy product made from cow's milk. Margarine typically contains milk or soy, but there are milk-free and soy-free versions available.
Gluten:
Gluten is a protein found in specific grains (wheat, spelt, kamut, barley, rye). Other grains are naturally gluten-free but may have cross-contact with gluten-containing grains. Look for certified gluten-free products if you need to avoid gluten. Find out more about
wheat and gluten substitutions
.

Print this recipe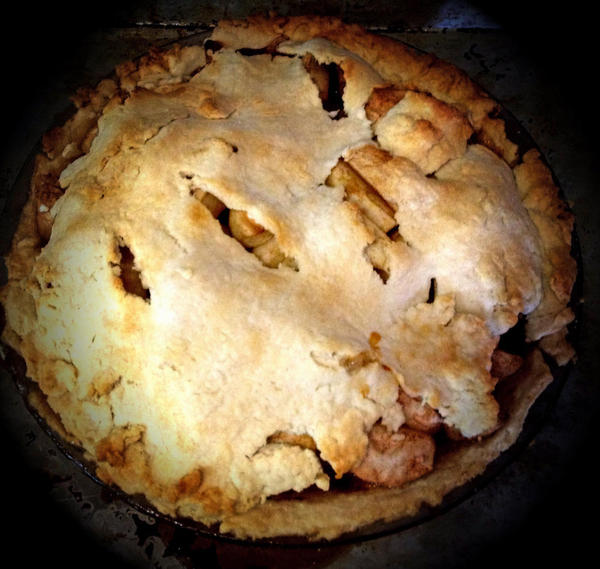 Jude's Apple Pie