Creamy Mashed Potatoes – Milk and Soy Free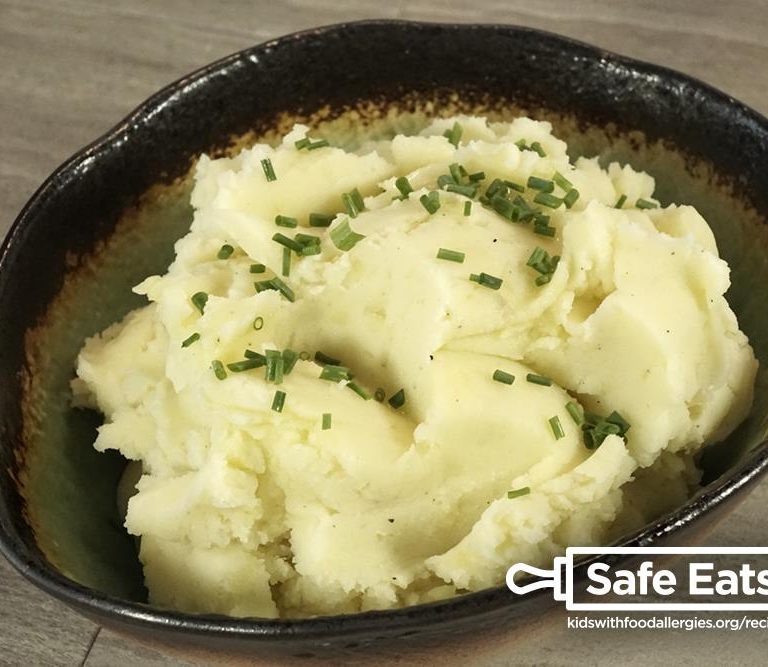 Avg. rating 4 from
4 votes.
Recipe Information
Recipe Created By: KFA Food Bloggers
Ingredients
2-3 lb potatoes – russet and/or Yukon gold
1 tsp salt
1/4 cup flavorful oil – olive, corn, grapeseed
to taste salt and pepper
1 Tbsp oil (optional)
2 Tbsp chopped chives (optional)
Directions
Peal and dice potatoes. Size doesn't really matter as long as they are all about the same size. 1-2 inch chunks work well.
Rinse potatoes and cover with cold water. Add about a tsp of salt to the water. Bring to a boil over high heat. Reduce and simmer until potatoes are tender – they should easily break apart when pierced with a knife.
Drain potatoes reserving about 1 cup of the cooking water.
Return potatoes to pot. If you prefer to rice your potatoes, rice them into the warm pot. Add the oil and start mashing. Add the reserved cooking liquid in portions – add about half to begin with. Use the rest to adjust the consistency as needed.
Add salt and pepper to taste and whip that in with your masher.
Transfer to a serving dish and drizzle a little more oil and sprinkle with chopped chives if desired.
Notes
Russet and Yukon gold are the best choices for fluffy mashed potatoes. You can use a combination.
Corn oil has a yummy mouth feel and subtle buttery flavor.
These are best with a hand masher, but you can use a hand mixer. Do not overbeat mashed potatoes or they will become gluey.
Substitutions
You can substitute safe margarine for the oil.
Corn Substitutions:
Corn is a common ingredient in products. Starch, modified food starch, dextrin and maltodextrin can be from corn. Consult with your physician to find out which corn derivatives you need to avoid. Many corn-free options are available in the US. Find out more about
corn substitutions
.

Print this recipe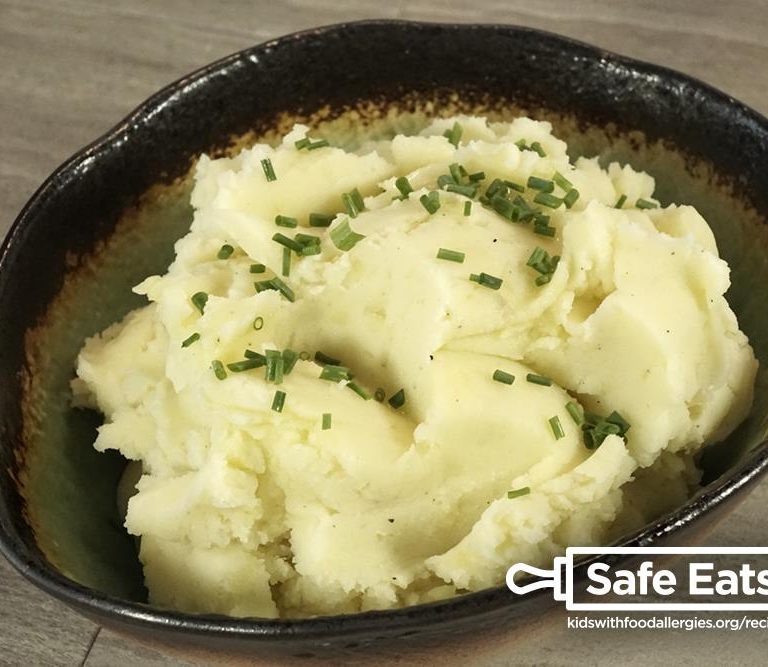 Creamy Mashed Potatoes – Milk and Soy Free