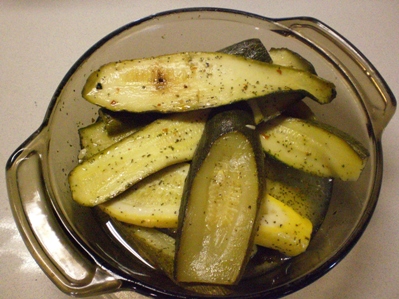 Avg. rating 5 from
2 votes.
Recipe Information
Recipe Created By: Amy Hugon
Ingredients
3 cup orange juice
1 1/4 cup brown sugar
1 cup vinegar
1/2 cup canola oil or other mild-flavored oil
1 Tbsp dried cilantro (or 1/4 cup chopped fresh cilantro)
2 Tbsp crushed red pepper flakes
1 tsp salt
dash pepper
1 tsp garlic powder
4-6 med chicken breasts, beef steaks, or game meat steaks
OR vegetarian option:
6 med zucchini, sliced 1/2 inch thick (optional)
Directions
Prepare marinade by mixing orange juice, vinegar, brown sugar, oil, herbs and spices.
Marinate meat or zucchini. (There's enough marinade to do EITHER zucchini OR meat for about 6. Or you could split the marinade and make zucchini AND meat for about 4.) Let meat / veggies marinate for 3-4 hours or longer.
Barbecue until done. Zucchini can be barbecued directly on the grill, or if cross-contamination from the grill is a concern, foil can be used to create a packet for the zucchini. This will prevent the zucchini from touching the grill directly. While the zucchini prepared this way will be lighter in color than those cooked directly on the grill, both will taste good.
Notes
Recipe Showdown Fundraiser 2008
I like grilling in the summer, mostly because it's the only way I can get my husband to cook. This was a treat – it never occurred to me to con him into making the vegetables in addition to the meat!
My allergic child didn't care for this (go figure), but everyone else did!
Substitutions

Print this recipe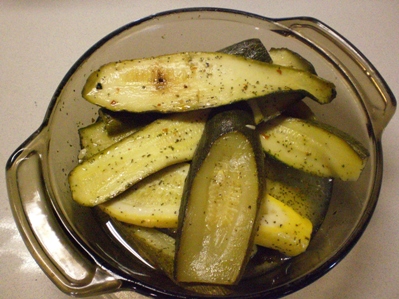 Citrus Grilling Marinade