Chewy Choco Chip Cookies – Top 8 Free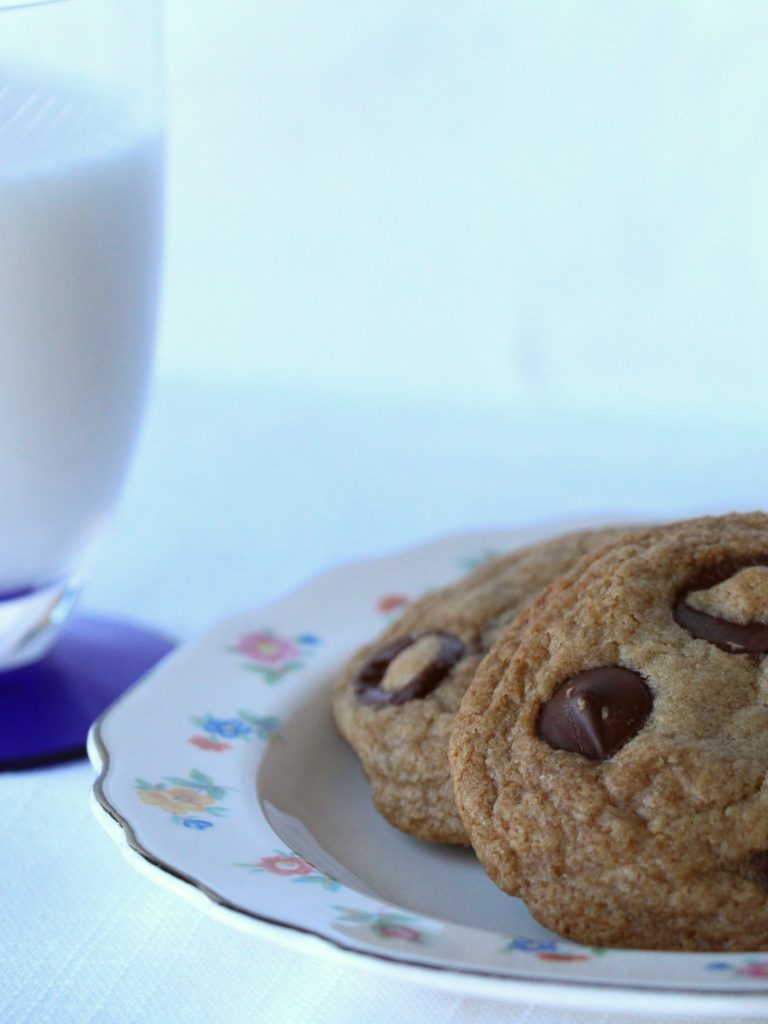 Avg. rating 4 from
54 votes.
Recipe Information
# of Servings: 30
Recipe Created By: Meg Falciani
Ingredients
6 oz margarine (1 1/2 sticks), melted
1 1/4 cups dark brown sugar
1/4 cup white sugar
3 Tbsp applesauce
2 Tbsp rice milk
1 1/2 tsp vanilla
1 1/4 cups sorghum flour
1 1/4 cups gluten-free flour mix (see below)
1 tsp xanthan gum
1 tsp salt
1 tsp baking soda
2 cups chocolate chips
Directions
Preheat oven to 375 °F.
Combine melted margarine and sugars in bowl. Stir until sugar absorbs all of the margarine and the mixture no longer has any margarine floating on top/at edges. Mix in applesauce, rice milk, and vanilla. Set aside.
In a second bowl, combine flours, xanthan gum, salt, and baking soda, and stir until well mixed. (You can sift them together if you prefer.)
Combine the dry mix with the wet, and stir until all flour mix is worked in. Gently stir in chocolate chips.
Spoon heaping teaspoonfuls onto parchment lined cookie sheets leaving at least 2 inches between cookies (they will spread quite a bit). Bake for 8-10 minutes, or until lightly brown at edges. Remove pan from oven, and let cookies rest ~5 minutes, then remove to cooling rack. You can eat these while still on the hot side, but they will be more prone to falling apart, so it's better to wait about 10 more minutes until they "set."
Notes
For gluten-free flour mix, I used equal amounts of rice flour + tapioca starch + potato starch.
This will be a softer dough than one that calls for only softened fat because the hot melted margarine will also melt sugars.
Instead of spooning dough onto cookie sheets, you can use an ice cream disher. With a No. 40 disher, you can fit 6 cookies (2×3) on each cookie sheet, yielding ~30 cookies per batch of dough.
Substitutions
These are based on Alton Brown's *original* "The Chewy" Chocolate Chip cookie recipe (with butter, egg and wheat flour), so if you wish to "translate back", subbing wheat for gluten-free flours and/or eggs for replacer, the recipe should work. (Note: I haven't tried it though!) The 3 Tbsp of applesauce replaces 1 whole egg + 1 egg yolk.
For chocolate chips, I used ELF chocolate chips (top 8 plus free). Use whatever chips are appropriate for you. The mini-chips were really nice, and full-size chips would probably be be good, too. However, I would not recommend using chunks of chocolate from large bar of safe chocolate, unless chopped very finely. Big chunks would overwhelm this cookie. For chips, one 10-oz bag is equal to approximately two cups.
Butter and Margarine: Butter is a dairy product made from cow's milk. Margarine typically contains milk or soy, but there are milk-free and soy-free versions available.
Gluten:
Gluten is a protein found in specific grains (wheat, spelt, kamut, barley, rye). Other grains are naturally gluten-free but may have cross-contact with gluten-containing grains. Look for certified gluten-free products if you need to avoid gluten. Find out more about
wheat and gluten substitutions
.

Print this recipe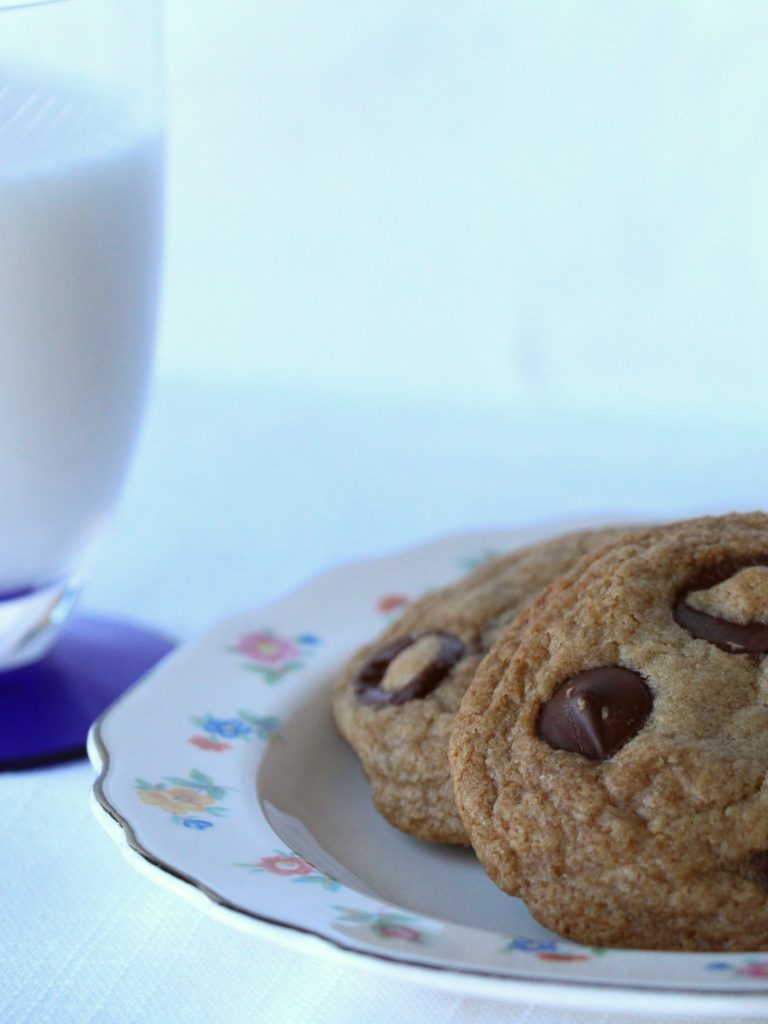 Chewy Choco Chip Cookies – Top 8 Free