Chef Luca's Lunch Box Chicken Salad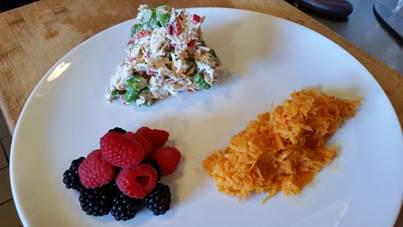 Avg. rating 4 from
4 votes.
Recipe Information
Recipe Created By: Chef Luca Della Casa
Ingredients
1 rotisserie chicken *
6 cooked asparagus spears
1 red bell pepper
2/3 cup vegan mayo
2 lemons, juiced
1 1/2 tsp salt
1/2 tsp black pepper
2 Tbsp chopped parsley
Directions
Shred the meat from the rotisserie or roasted chicken, cut the asparagus in little bites and cut the bell pepper in little cubes. Combine with all of the chicken salad ingredients above. Don't forget how easy food art can be! A couple extra pieces of asparagus and some olives can turn your chicken salad into fun piece of food art for your child!
Notes
Substitutions
*A store-bought rotisserie chicken may not be safe for your set of allergies. You can make a
Roasted Chicken
the night before and use the leftovers for the chicken salad lunch.
For vegan mayo, Veganaise offers a dairy-free, egg-free, soy-free version
Egg Substitutions:
There are many egg-free products and foods available to make your recipes free of eggs. Find out more about
egg substitutions
.

Print this recipe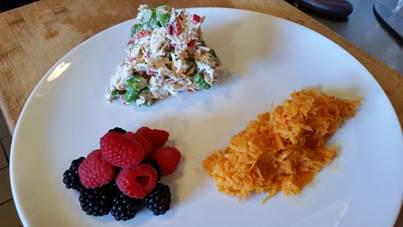 Chef Luca's Lunch Box Chicken Salad