Chef Luca's Allergy-Friendly Eggplant Parmigiana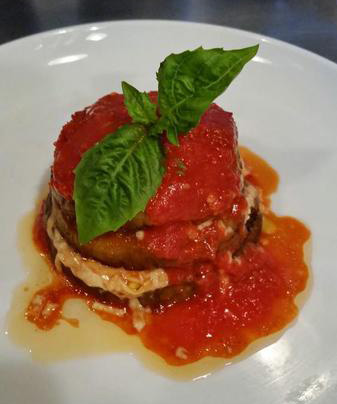 Avg. rating 5 from
3 votes.
Recipe Information
# of Servings: 4
Recipe Created By: Chef Luca Della Casa
Ingredients
1 large eggplant , peeled and sliced in 1/2 in thick slices
2 cups tomato sauce (see recipe below)
2 cups dairy-free, soy-free mozzarella *
4 Tbsp coconut oil
salt & pepper
fresh basil
Directions
To sweat out some of the moisture from the eggplant slices, place the sliced pieces of eggplant onto paper towels, sprinkle them with salt, and let them sit for 10-15 minutes.
Turn the eggplant slices over, sprinkle them with a little more salt, and let them sit for another 10 minutes.
In a large pan, heat up the coconut oil and then pan fry the eggplant at medium high temperature.
Let them rest on a rack or on paper towels.
Make tomato sauce with the recipe with already posted. (See Below)
In a little aluminum disposal container start building the eggplant parmigiana.
Start with a little tomato sauce on the bottom. Top it with a slice of eggplant and a pinch of dairy free mozzarella, and sauce again. Repeat this sequence until you get to the top of the container and finish with tomato sauce on the top.
You can also use an oven dish, like the one you would use to make a lasagna. Lay the eggplant parmigiana like a lasagna, once it is cooked you can slice it out in portions.
Tomato Sauce
In a sauce pan over medium heat start sautéing the chopped onion (one medium) with 2 Tbsp of olive oil. Let the onions and olive oil cook gently until you get a translucent look. Next add the 2 cloves of chopped garlic and the can of whole tomatoes (do not drain the juice). Let the sauce pan simmer and gently cook for about 1 hour on medium low. Once your sauce has gently cooked for 1 hour, add 1 Tbsp of salt and ½ tsp of black pepper and blend in a food processor or with immersion blender. Be careful not to fill your food processor more than half way because the sauce will grow in volume.
Notes
Luca Della Casa is Executive Chef at the Nosh Restaurant & Silo Restaurant, San Antonio, Texas. Chef Luca has 16 years' experience in the food service industry in Italy, Spain and the U.S. He was raised in Northern Italy, with an in-depth knowledge of Italian, French, and Spanish cuisines. He was a finalist on Food Network's The Next Food Network Star. He welcomes food allergic diners at his restaurant. You can find Chef Luca at facebook.com/cheflucadellacasa.
Substitutions
* We are using Daiya mozzarella style shreds. Read ingredients to find varieties free of the top 8 allergens.
Coconut:
Although classified by the FDA as a tree nut, coconut is not a common allergen and is not related to tree nuts. If you have a
tree nut allergy
, consult your physician to find out if you need to avoid coconut.

Print this recipe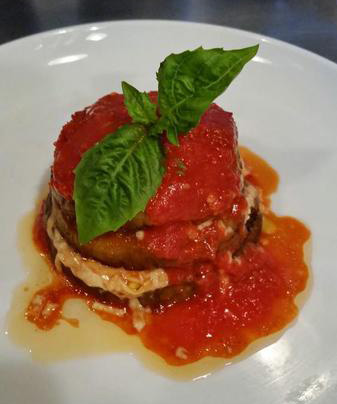 Chef Luca's Allergy-Friendly Eggplant Parmigiana