Black Forest Brownie Torte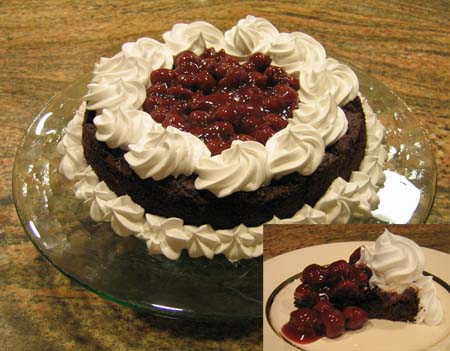 Avg. rating 5 from
13 votes.
Recipe Information
Recipe Created By: Kathy Przywara
Ingredients
1/2 cup cherry pie filling (see below)
1/3 cup cocoa
3/4 cup flour (see below for gluten-free options)
1/2 tsp baking soda
2 tsp baking powder
1/2 tsp salt
1/4 cup margarine (dairy and/or soy-free as needed), shortening or liquid vegetable oil
1/2 cup brown sugar
1/2 cup chocolate chips, divided
1/2 cup applesauce
Topping: (optional)
Additional cherry pie filling (optional)
Whipped cream, non-dairy topping, or Whipped Cream Frosting (optional)
Directions
If making your own Cherry Topping or Pie Filling, prepare and set aside to cool. When measuring, try to get mostly cherries and not too much of the syrup part.
Preheat oven to 350 °F.
Prepare an 8″ round pan by lightly greasing bottom, fitting with a parchment round and lightly greasing parchment. The parchment is optional, but highly recommended if you want to remove the brownie from the pan to decorate and serve. To cut a parchment round to fit pan, take a piece of parchment larger than the pan. Fold in half, then into quarters. Fold two more times by bringing the folded edges together forming somewhat of a triangle. Hold the tip at the center of the pan and snip or tear across the unfolded edge at the edge of the pan. Open up the piece which should be reasonably round and fit your pan.
In a medium bowl, combine cocoa, flour, baking soda, baking powder and salt. Whisk together well making sure there are no lumps of cocoa.
In a medium saucepan over low heat, melt margarine, butter, shortening or oil. Add brown sugar and stir until melted. Remove from heat. Add 1/4 cup of the chocolate chips and stir until they are melted. Allow to cool for 5 min.
Stir in applesauce until well combined. Add dry ingredients and stir to combine. When almost all the dry goods are incorporated, add remaining chocolate chips and finish stirring to combine. Do not overmix. Add cherries and fold to combine.
Scrape batter into prepared pan making sure to get all that chocolaty goodness out of there. Use a spatula to spread the batter evenly in the pan.
Bake at 350 °F for 18 to 20 minutes or until it tests done. Remove from oven to a cooling rack. If removing from the pan to serve, allow to cool for at least 20 minutes in pan. Run a knife around the edge and invert pan onto a plate or cooling rack. Remove parchment. Invert brownie again to be right side up onto a cooling rack and allow to cool completely.
To serve, this can be simple and casual or dressed to the nines. For a simple presentation, dust with powdered sugar and cut into wedges to serve. Optionally, top each slice with additional cherry pie filling and/or whipped topping.
For a more formal presentation, use whipped topping, whipped cream or https://kidswithfoodallergies.org/recipes/showrecipe.php?id=886 Whipped Cream Frosting to pipe a border of rosettes or a large shell border. Fill center with cherry topping. Dust with powdered sugar mixed with a little cocoa or top with chocolate curls.
An undecorated brownie can be stored at room temperature, but if decorated, keep any unused portion (if there is any!) refrigerated.
Notes
KFA Iron Chef Valentine's Battle 2008: Desserts and Candies
Ah dessert…to me a decadent dessert HAS to start with chocolate! My sincere apologies to those who have to avoid chocolate, I feel your pain!
I wanted a dazzling birthday dessert without the hassle of baking, filling and decorating a cake.
I've always loved Black Forest Cake, but to make that from scratch is rather time consuming. So, this is a quick and easy version that starts with a decadent dairy and egg free chocolate brownie marbled with cherry pie filling. It can be served just as is or all decked out with additional cherry pie filling and whipped topping or frosting. Enjoy! …but don't blame me for the added pounds!
Substitutions
You can user butter, margarine, shortening or oil in the recipe depending on your allergy needs. Shortening will produce a drier brownie and I do not recommend Spectrum shortening as this was very dry. If you don't have a soy oil based shortening available, use any light flavored liquid oil. If using shortening, you may find that shortening the baking time by a couple minutes produces a moister product.
Any type of safe chocolate chips or chunks will work, but I recommend mini chips such as the Enjoy Life Foods brand to give the best texture.
To make gluten free, use the following for the "flour":
1/4 cup white rice or sorghum flour
1/4 cup sweet rice flour
1/4 cup "starch" – use all tapioca starch OR a combination of 2 Tbsp potato starch plus 2 Tbsp tapioca starch
1/2 tsp xanthan gum
Whipped Cream Frosting can be used to pipe rosettes and a star border around the torte.
Butter and Margarine: Butter is a dairy product made from cow's milk. Margarine typically contains milk or soy, but there are milk-free and soy-free versions available.
Corn Substitutions:
Corn is a common ingredient in products. Starch, modified food starch, dextrin and maltodextrin can be from corn. Consult with your physician to find out which corn derivatives you need to avoid. Many corn-free options are available in the US. Find out more about
corn substitutions
.
Gluten:
Gluten is a protein found in specific grains (wheat, spelt, kamut, barley, rye). Other grains are naturally gluten-free but may have cross-contact with gluten-containing grains. Look for certified gluten-free products if you need to avoid gluten. Find out more about
wheat and gluten substitutions
.

Print this recipe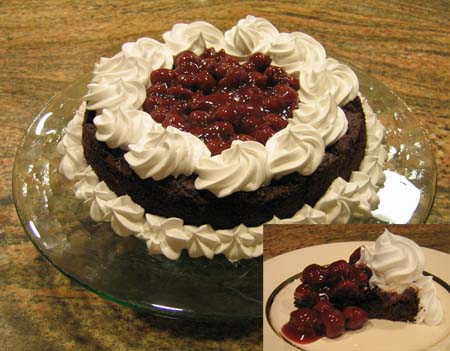 Black Forest Brownie Torte