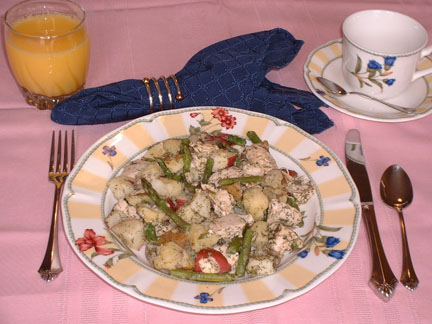 Avg. rating 4 from
12 votes.
Recipe Information
Recipe Created By: rachelandtyke
Ingredients
4 boneless, skinless chicken breast halves
1 lb red potatoes
1 lb Yukon gold (or other
1 bundle (approx 1 lb) asparagus spears
1/2 cup olive oil
1/3 cup balsamic vinegar (regular or white)
2 Tbsp Dijon mustard
to taste salt
to taste pepper
1 Tbsp dried dill (optional)
1 Tbsp dried basil (optional)
Directions
Cook the chicken and cut into bite-sized pieces. To do this, put the chicken into a large pot and cover with water, bring it to a boil, and boil for 30 minutes. Then remove the chicken and cut it up. Cool slightly.
While the chicken is cooking, wash the potatoes and cut into bite-sized pieces. Steam them for about 8 minutes – they will not be tender yet.
While the potatoes are steaming, prepare the asparagus. Wash and trim the asparagus. Cut into 2 inch pieces. After the 8 minutes is up on the potatoes, add the asparagus to the potatoes and continue to steam for another 7 minutes until the asparagus is tender (15 minutes total for the potatoes). Cool slightly.
While the asparagus is cooking, prepare the dressing. Whisk together the olive oil, balsamic vinegar, Dijon mustard, salt, pepper, and either the dill or basil.
In a large bowl, combine the chicken, potatoes, asparagus, and dressing. Toss to coat. You can add additional dill or basil if you would like more flavor, but I don't recommend more than an additional teaspoon.
Serve warm.
The leftovers (if there are any) are good eaten cold as well.
Notes
Iron Chef KFA Battle Spring Brunch April 2007 Dairy, Egg and Wheat Free.
Challenger's statement:
Most of my brunch memories center around going out for or preparing a Mother's Day brunch. Since it was spring, asparagus was always a prominent component, so for sentimental reasons I chose to use asparagus in my dish. Since eggs and dairy are out, I sought another light protein source. And since wheat is also out, I thought adding a starch would round out the dish. This ended up being a variation on a recipe I have been making for light summer dinners for a while, but it is now top-8 free and even tastier than before! Thus evolved Asparagus-Balsamic-Chicken-Potato Salad or, more simply, ABC Potato Salad.
Substitutions
You can cook the chicken, potatoes and asparagus in any manner you prefer and what is convenient for you, you just want to be sure the potatoes and asparagus are tender, but not mushy. (Note – for judging in the battle, please follow the above preparation method.)
1 lb frozen french-cut green beans can be substituted for the asparagus. Cook just until crisp-tender. (if steaming, just 3-5 minutes)
An additional lb of red potatoes can be substituted for the Yukon gold (or other "buttery") potatoes.
The dill or basil can be omitted and the dish is still yummy, just not quite as flavorful.

Print this recipe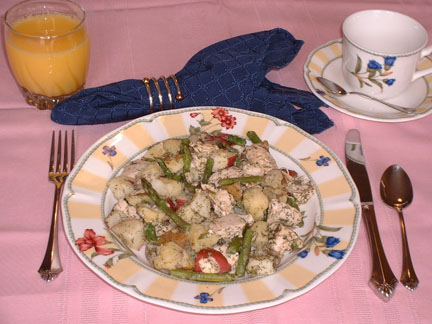 ABC Potato Salad