Sinfully Delicious Eggless CheeseCake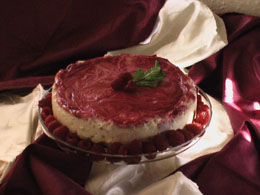 Avg. rating 5 from
6 votes.
Recipe Information
# of Servings: 12
Recipe Created By: Yael Weinstein
Ingredients
15 graham crackers
6 Tbsp margarine
4 8 oz pkgs Tofutti® Better Than Cream Cheese
1 1/2 cups white sugar
3/4 cup rice milk or soy milk (vanilla flavor optional)
1 cup extra firm tofu (pureed)
1 cup Tofutti® Better Than Sour Cream
1 Tbsp vanilla extract
1/4 cup all-purpose flour
3 cups raspberries
mint sprigs for garnish
vegetable oil spray (optional)
Directions
Make sure that the Tofutti® cream cheese, milk (I like to use vanilla flavored), tofu, and Tofutti sour cream are at room temperature. This will help prevent the cake from cracking and sinking.
When ingredients are at room temperature preheat oven to 350 °F.
Crush the graham crackers in the food processor or between two sheets of wax paper with a rolling pin.
Melt the margarine in the microwave and mix into the crushed graham crackers until all is moist.
Grease with vegetable oil spray or margarine a 9 inch round springform pan. Press graham cracker mixture into the bottom of the springform pan.
Puree the tofu with a blender or hand blender. It won't get completely smooth, but mix it for about 3 minutes to get out as many lumps as possible.
Mix in a large bowl or with an electric mixer the Tofutti cream cheese and sugar until smooth. Blend in the milk and then mix in the pureed tofu. Next add the Tofutti sour cream, vanilla and flour, mix until smooth. I usually let the electric mixer mix it for about 5 minutes to get it extra smooth.
You can prepare the raspberries while the mixer is still going. Take one cup of unpureed raspberries and blend them with an standing or hand blender. Make sure it is as smooth as possible. Than strain the pureed raspberries using a small strainer and a spoon to push it through. Discard the seeds.
The following step can be done in one of two ways:
1. Pour cream cheese mixture until the springform pan is half full. Spoon half the raspberry puree onto cheese cake. Pour more of the cheese cake mixture into the springform pan until about 1/4 of an inch from the top. (If there is some left you can discard it) and then spoon another layer of the raspberry puree. Swirl the raspberry puree into the batter with a knife. (You should use this method if you want raspberry in the middle of the cake.)
2. Pour cream cheese mixture until about 1/4 of an inch from the top. (If there is some left you can discard it.) Spoon raspberry puree onto cheese cake. Swirl the raspberry puree into the batter with a spoon. (If you want your cake to look more vibrant red this method will give you that effect.)
Place cake into preheated oven for 1 hour.
Remove cake and cut around with a warmed or greased knife in order to keep the cake from cracking while it cools.
Turn off the oven and return the cake to the oven for 6 hours. This should help the cake from sinking or cracking. (I usually bake this cake at night and leave it in the turned off oven for the night.)
Refrigerate until you serve. When you are ready to serve the cake garnish with the rest of the raspberries and with mint springs.
Best when baked the night before.
Notes
KFA Iron Chef Valentine's Battle 2008: Desserts and Candies
I originally made this cheesecake for my family as a New York style cheese cake for a holiday and ever since everyone has been requesting different flavors for different events. Nothing is more perfect for Valentine's Day than a beautiful red and white cheesecake. The best part is that if you don't tell your guests and family that it isn't a really cheesecake they would never guess!
Substitutions
If you don't like raspberries you can substitute other berries in its place and use the same method for pureeing and draining the seeds.
Read the labels for the graham crackers, cream cheese and sour cream to make sure they are safe for your family.
Butter and Margarine: Butter is a dairy product made from cow's milk. Margarine typically contains milk or soy, but there are milk-free and soy-free versions available.
Gluten:
Gluten is a protein found in specific grains (wheat, spelt, kamut, barley, rye). Other grains are naturally gluten-free but may have cross-contact with gluten-containing grains. Look for certified gluten-free products if you need to avoid gluten. Find out more about
wheat and gluten substitutions
.

Print this recipe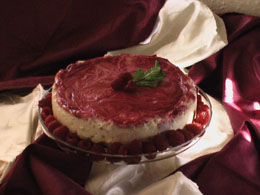 Sinfully Delicious Eggless CheeseCake