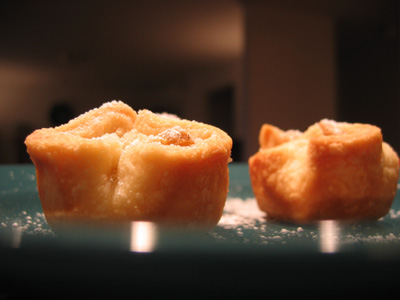 Avg. rating 5 from
5 votes.
Recipe Information
Recipe Created By: Oliviasmommy
Ingredients
2 cups flour
1 Tbsp powdered sugar (optional)
2 sticks margarine (salted)
1/2 cup Tofutti® Better Than Sour Cream
3/4 cup Tofutti® Better Than Cream Cheese
1/3 cup pumpkin puree
1 Tbsp each water and arrowroot starch mixed together
1/2 cup brown sugar
1/2 tsp grapefruit zest
1/4 tsp allspice (optional)
1/4 tsp nutmeg (optional)
1/4 cup powdered sugar (for garnish)
2 tsp cinnamon (for garnish)
Directions
Pastry:
Blend flour and powdered sugar. Scatter safe margarine slices over the flour mixture and cut in with a pastry blender or cut with two knives in a cross cutting motion. The pastry should look like sand mixed with pea sized pieces.
Add the 1/2 cup soy sour cream and stir in with a spoon. The pastry will appear dry. With your hands press form the dough into a ball and divide into 3 equal parts. Press each part into a square, less than 1 inch thick. Wrap each square and refrigerate for at least 4 hours, up to 24 hours. This dough freezes well.
Pumpkin filling:
Using a handheld mixer (or stand mixer, if you have one) mix the soy cream cheese, pumpkin puree, water and arrowroot mixture, brown sugar, orange zest and spices (nutmeg and allspice) all at once until smooth.
Preparing the dessert:
Working with one square of dough at a time, roll out the dough until you have a 9″ by 9″ square. Using a ruler and pizza cutter, cut out 9 equal squares which are 3″ by 3″ each.
Lay one pastry square over one cup of a mini-muffin pan (regular sized muffin pan will work as well, it will change the shape of the finished product, but not the yummy taste). Put one spoonfull (teaspoon size) of filling in the middle of the square. Pull each of the four corners of the pastry square together over top and ease the filled pastry into the cup. Repeat until all 9 squares are used. Repeat the process with the remaining refrigerated dough.
Refrigerate the filled pastries in the muffin pans for about 30 minutes until chilled.
Bake for 20 minutes, or until golden, in the lower third of a preheated oven set at 375 °F. You can bake 2 pans at once.
Remove the pans from the oven, and let cool a few minutes before removing the pastries from the pan to a wire cooling rack. Once the pastries are no longer piping hot, dust them with powdered sugar mixed with cinnamon.
If not serving right away, these pastries can be frozen. Simply reheat in a 350 °F oven for 10 minutes.
Notes
Iron Chef KFA Battle Pumpkin October 2006 – Dairy and egg free.
Challenger's statement:
This recipe was inspired by a recipe I saw prepared on "Cooking Live" with Sara Moulton. It was my favorite Food Network show ever, and I made many of her recipes. I wanted to see if it would work without real dairy or eggs, which were both a big component of the original. The ingredients and some of the preparation has changed from her recipe — I added the grapefruit zest with goes GREAT with the pumpkin and gives these small bite sized desserts a lighter flavor.
This dough is also a real find. Once rolled out, the dough is smooth and elastic and soft. It bakes like a puff pastry and tastes light and flaky.
Substitutions
Use dairy, egg and nut free ingredients as needed.
Butter and Margarine: Butter is a dairy product made from cow's milk. Margarine typically contains milk or soy, but there are milk-free and soy-free versions available.
Corn Substitutions:
Corn is a common ingredient in products. Starch, modified food starch, dextrin and maltodextrin can be from corn. Consult with your physician to find out which corn derivatives you need to avoid. Many corn-free options are available in the US. Find out more about
corn substitutions
.
Gluten:
Gluten is a protein found in specific grains (wheat, spelt, kamut, barley, rye). Other grains are naturally gluten-free but may have cross-contact with gluten-containing grains. Look for certified gluten-free products if you need to avoid gluten. Find out more about
wheat and gluten substitutions
.

Print this recipe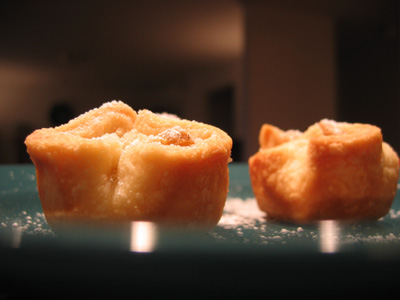 Pumpkin Pastry Bites