Pumpkin Muffins and Pumpkin Seed Streusel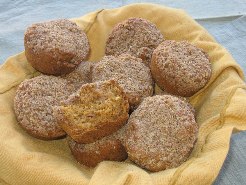 Avg. rating 5 from
7 votes.
Recipe Information
# of Servings: 12
Recipe Created By: Heather Hetler
Ingredients
1/2 cup sugar
1/2 cup oil
1/3 cup applesauce
1 Tbsp vanilla
1 cup canned pumpkin
1/3 cup orange juice
1 tsp xanthan gum
3/4 cup tapioca starch/flour
1/2 cup sorghum flour
1/2 cup brown rice flour
2 Tbsp sweet rice flour (optional)
1 tsp baking soda
2 tsp baking powder
1 tsp nutmeg
1/2 tsp cinnamon
Streusel Topping:
1/3 cup roasted pumpkin seeds
1/4 cup brown sugar
2 Tbsp brown rice flour
1 tsp cinnamon
3 Tbsp margarine
Directions
To make Streusel topping:
Chop pumpkin seeds in a food processor or blender until very small pieces. Most will be very fine grain, and will stick together, though some slightly larger pieces may remain. Combine chopped seeds, brown sugar, flour, and cinnamon in a small bowl. Cut in margarine until crumbly. Set aside.
Combine sugar, oil, applesauce, vanilla, canned pumpkin, and orange juice in a small bowl. In a separate bowl, combine remaining ingredients. Stir well to combine, then add the wet ingredients to the dry. Stir until completely combined, but do not overmix.
Fill muffin tins 1/2 to 2/3 full, then top with 1 heaping tablespoon of streusel topping.
Bake at 350 °F for 25-30 minutes, until cake tester comes out clean, or the streusel is golden brown and the muffin springs back when touched.
Notes
Iron Chef KFA Battle Pumpkin October 2006 – Dairy and egg free.
Winner – Second Place!
Challenger's statement:
In the fall season, I love to eat pumpkin muffins. These were created over many batches, to find a gluten, dairy, and egg free version that we all could enjoy. They turn out wonderfully, and are perfect for bringing places with a "mixed" crowd–you can't tell that they are any different from standard pumpkin muffins. The pumpkin seed streusel came out of a desire to have that nut topping which is no longer possible with food allergies. I used roasted, salted pumpkin seeds, and the slight salty taste to the sweetness of the muffin is very appealing.
Substitutions
The orange juice can be replaced with rice milk.
The muffins are equally wonderful without the streusel topping. To cut down on sugar, use 1/2 cup agave nectar in place of the sugar. Brown or white sugar can be used.
Small loaf pans (5 3/4 x 3 x 2) may be used in place of muffins. Bake for about 40 minutes or until they test done.
Butter and Margarine: Butter is a dairy product made from cow's milk. Margarine typically contains milk or soy, but there are milk-free and soy-free versions available.
Corn Substitutions:
Corn is a common ingredient in products. Starch, modified food starch, dextrin and maltodextrin can be from corn. Consult with your physician to find out which corn derivatives you need to avoid. Many corn-free options are available in the US. Find out more about
corn substitutions
.
Gluten:
Gluten is a protein found in specific grains (wheat, spelt, kamut, barley, rye). Other grains are naturally gluten-free but may have cross-contact with gluten-containing grains. Look for certified gluten-free products if you need to avoid gluten. Find out more about
wheat and gluten substitutions
.

Print this recipe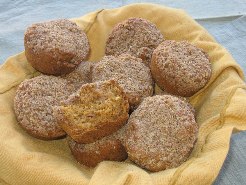 Pumpkin Muffins and Pumpkin Seed Streusel