Volunteers Are the Lifeblood of Our Organization
KFA has several volunteer opportunities.
​
Our organization relies on enthusiastic and supportive volunteers to help us host local events, provide an active online community and more.
Do you want to make a difference in the life of a child? You can help us keep children with food allergies safe and healthy! As a member of our community team, you will make a difference in the lives of children with food allergies. Interested? Join our community and opt-in to get involved in advocacy, research and local events!

"My daughter is 7 years old and is thriving and we have KFA to thank! We have been aware of her milk allergy from the time she was 2 weeks old. Her first 2 years were so hard, I found KFA after her first anaphylaxis. They have been my main support through the years. There are so many changes as children grow with how their allergy affects their lives physically and emotionally. It is so valuable to hear from other parents who are going through it or have already been there and can give guidance. I have also been able to educate myself, our family and our schools with the webinars and educational materials they provide. All I have learned from KFA has made a huge impact on how full and wonderful her life is with her milk allergy…and how healthy she is 🙂 I'm so grateful we've had KFA in our allergy journey, to support and guide us during the difficult times and to share our joy when we've figured things out!" -jennyay
​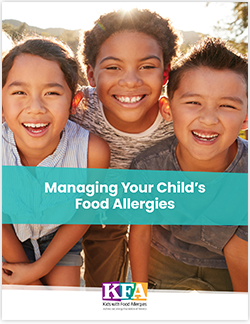 Teal Classroom:
Food Allergy Awareness Kit