Coping With the Emotional Aspects of Food Allergies
Mom Finds Encouragement on KFA's Online Forums
By Amber Campbell
I was so fortunate to discover Kids with Food Allergies in 2007, when I was looking for support and guidance in caring for my newborn son, Henry. I was nursing him, but he was reacting to allergens in my breast milk. I felt frustrated and isolated. When your child is diagnosed with food allergies, doctors often rattle off some numbers, prescribe an epinephrine injector, and if you're lucky, provide guidelines on to how to avoid the allergens. There is little help with the emotional aspects, and often friends and family do not understand what you must go through while learning how to keep your child safe. KFA fills that great void.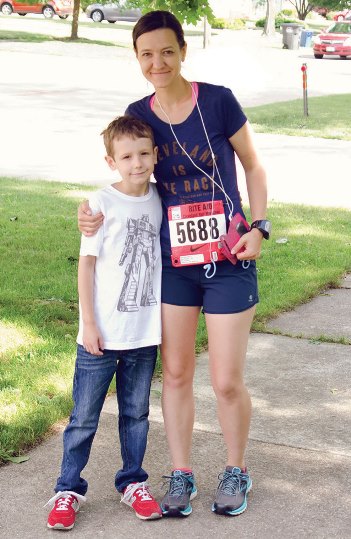 "I felt frustrated and isolated until I discovered KFA," says Amber.
The support on the online forums is invaluable. Throughout the next 5 years, I was on the forums all the time, asking questions and helping other parents when I could. If Henry had an allergic reaction, I knew I could jump on at any hour of the day to receive encouragement. I've been given advice on everything from dealing with preschool parties to how to store your EpiPen® on the beach!
Last fall I began to wonder if Henry had eosinophilic esophagitis (EoE), a reaction to foods and other allergens that can inflame or injure the esophageal tissue, leading to difficulty swallowing. I poked around the EoE board on KFA and found answers to every question I had. I also shared concerns, and plenty of parents stepped up to help me, even sending me private messages of support. Henry was officially diagnosed with EoE in January of this year, and KFA has been there every step of the way, from Henry's first appointment to the first scope, and through a grueling elimination diet.
I've always wanted to give back to the allergy community for all it's done for me, and while I've been volunteering for KFA since 2012, I wanted to do more. I've been a runner for 15 years, and when I signed up to run my second half marathon, I realized that this was a perfect opportunity to help KFA raise money! I trained for the race during the frigid and snowy winter of 2013, which coincided with Henry's elimination diet, as well as learning about EoE and how to treat him. There were many times that I wanted to quit. Some days, it was only the fact that I was running for Henry and KFA that got me out the door to train, because I didn't want to let them down. I ran the race on May 18th and raised $1,070. I plan to run the full marathon in 2015 and hope to raise twice as much as I did this year!
Want to get more involved? Host, organize or participate in a KFA fundraiser or special event!